Marriott redesigns app for deeper customer experience
Ease of use and personalized suggestions turn the hotel's mobile experience into a "personal concierge."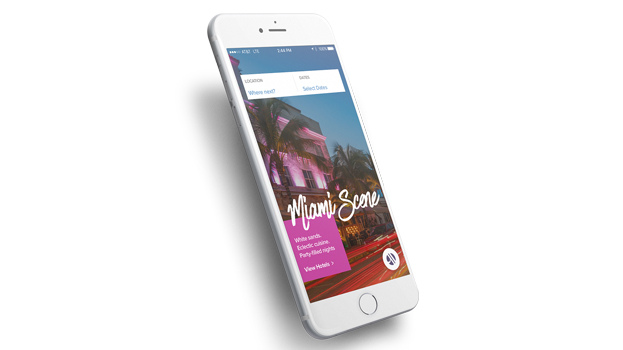 Marriott is changing its mobile brand experience from a simple booking service to a personalized travel concierge with several new features on its mobile app.

Marriott had already been a market-leader when it came to mobile apps, being the first hotel chain to offer mobile check-in and "room ready" alerts in 2014. But whereas the previous version of Marriott's app provided a one-size-fits-all, transaction-focused booking service, the new app is aimed at providing personalized experiences for the company's Rewards members.

"Many people have an emotional connection with their mobile devices and apps they've downloaded," said Thom Kozik, VP of loyalty at Marriott International, in a press release. "Therefore, it makes sense that we can deepen our relationship with Marriott Rewards members by delivering greater recognition, and easy access to the loyalty programs' features through our new mobile experience."

The new app is only available to Marriott Rewards members, but it utilizes that loyalty data to make personalized and time-relevant suggestions to users. Based on the insight that many travelers are often rushed for time or have their hands full, the app now has a "one-button" design that allows users to easily select options from screens that automatically display new options based on what point of a trip the traveler is on.

It shows them check-in options at the beginning of a trek, for example, and can make destination suggestions during later parts of the trip.

The company also announced that later this year it will be launching "mPlaces," a messaging service within the app (though it is not slated to be released in Canada as of yet). By utilizing user data and beacon tech currently installed at over 500 of its hotels, the messenger will deliver greetings to users when they arrive and offer them information about hotel features that are most important to them. It is also planning to offer features like room service ordering to any location in the hotel, like a conference room or pool.

Existing features like mobile check-in have been strengthened, allowing users to request room upgrades and late check-out. The "mobile requests" feature, which was first rolled out in 2015, offers more ability for guests to customize their booking by chatting with hotel staff or choosing from popular options like extra towels or pillows, whether it is before or during their stay.

According to Marriott, 54% of current app users make these kinds of customization requests before their visit begins.

The new app is also bringing the previously-piloted "Mobile Key" to a wider audience, letting guests use their phone to lock and unlock their room.

Marriott is the latest brand to bring features outside of simple e-commerce functions to its proprietary app. Indigo's Reco app is meant to be a social tool that lets people rate recent reads and make suggestions to friends. Tangerine has integrated chat in it app to connect with financial advisors (otherwise unavailable from the branchless bank), as well as biometric security features. Canadian Tire's "mPay & Play" does allow loyalty members to pay for items in-store, but adds on a gamification element that allows users to earn achievements and unlock bonuses that help them earn more of the beloved Canadian Tire Money.