Ikea keeps Market Hall campaign sustainable
Why textiles and lighting are central to the newest phase of the retailer's ongoing efforts.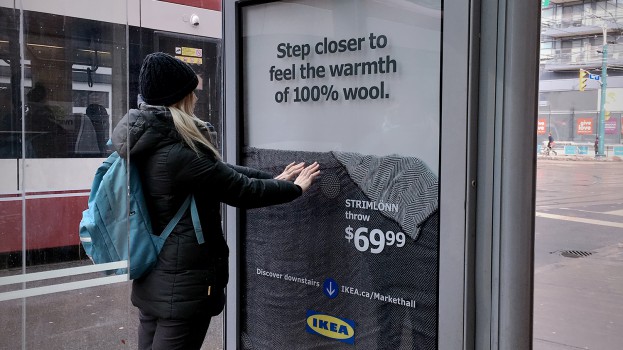 Ikea Canada is shedding light on winter warmth and sustainability as it enters the next phase of its focus on its Market Hall.
The ongoing Market Hall strategy, which promotes the downstairs merchandise area of its stores, is centred on seasonality. The winter phase focuses on getting cozy but also its products' impact on living sustainably at home, says Lauren MacDonald, country marketing manager at Ikea Canada.
Given that February is dark and cold, products being promoted through this phase of the campaign include lighting and textiles, with Ikea placing particular emphasis on attributes like its LED bulbs and recycled materials' role in keeping energy costs down. Like the initial Market Hall campaigns last year, low price points are also key in the marketing strategy this time around, with prices featured prominently in the advertising.
The campaign is part of Ikea's attempt to be a "leader in understanding Canadians' life at home," MacDonald says. Sustainability is one of the tenets of Ikea's "democratic design" principles, she says. At a corporate level, the retailer has made moves to sell only LED bulbs and be more energy independent by investing in wind farms.
This wave of the Market Hall campaign, led by Leo Burnett, launched Monday and runs until mid-March. It includes a 10-second TV spot, static and digital OOH and digital and mobile ads and social media support.
New for this phase is a high-impact transit shelter ad in Toronto on the King Street streetcar line (pictured above). The shelter is outfitted with an image of one of Ikea's wool throws, which gets warmer the closer a commuter gets to it.
Ikea began its Market Hall strategy late last year with a focus on food and cooking ahead of Thanksgiving, followed up with an entertainment push around the Christmas season. The holiday phase of the Market Hall campaign led to an 8% increase in engagement across paid social channels, with engagement on Facebook in particular growing 7% between the Thanksgiving and holiday phases.
Outside of the Market Hall strategy, beginning later this month, Ikea will also be launching a virtual reality program in its Etobicoke store. Part of a global test pilot, the VR experiences, using HTC Live headsets, will allow customers interested in buying a kitchen through the retailer to experience what the room will look like in a more immersive way. The pilot program will run until May in Canada.