CASSIES Bronze: Interac's debt-free January
Zulu Alpha Kilo's campaign cut through the Christmas cheer by presenting a less joyous January.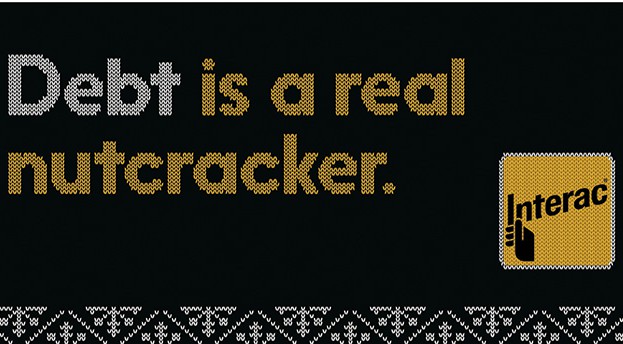 This article appears in the March/April 2017 issue of strategy.

Bronze | Seasonal
Agency | Zulu Alpha Kilo

No matter how prepared you think you are, the January credit card bill hits like a ton of bricks. The joyful hangover from the holidays quickly becomes something much worse – a debt hangover. Interac saw an opportunity in getting Canadians to consider the January bill while running it up in December.

Launched nationally in November 2015 and supported by a $4-million budget, "Merry January" was led by a 60-second film in cinema, online and TV, featuring a last-minute holiday shopper whose imagination runs wild in a toy store. The toys come to life singing "Debt, debt, debt, debt, debt," convincing the shopper to pay with Interac instead of credit. Additional online videos featured a festive, Griswold-like family putting a twist on traditional carols. The campaign also included OOH, print and digital executions.

Over the campaign period, there were 40 million more Interac transactions than the same period the previous year, representing 5% growth. Almost all key brand and ad tracking measures increased significantly as a result of the campaign.

While "Be in the Black" had been building the Interac brand since 2014, this holiday campaign resulted in a significant jump in Interac Debit card usage during the 2015 holiday period versus the previous year.