CASSIES Bronze: Koodo makes a positive case
Camp Jefferson and the wireless brand pitched its customer service strength to win new converts.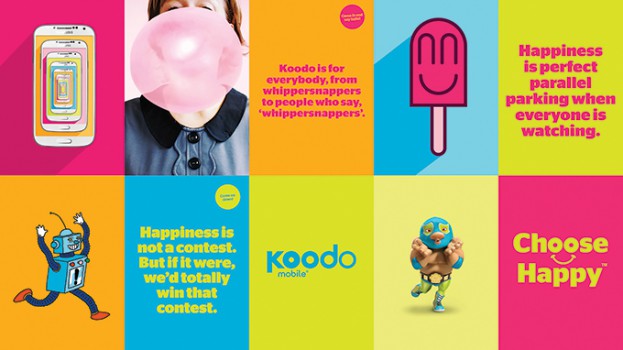 This article appears in the March/April 2017 issue of strategy.

Bronze | Technology
Agency | Camp Jefferson

People love to complain about their telecom provider. It's practically a national pastime. But Koodo has remained a bit of an exception: even as discontent rose overall among telecom customers, the brand's subscribers gave the company a best-in-category 87% favourability score.

Still, people weren't recognizing Koodo as the preferred alternative. Non-customers gave the brand the lowest favourability score, at only 19%. It needed to highlight its customer experience to win over disgruntled customers from other carriers.

"Choose Happy" launched in April 2015, using bright colours and images to exude fun and happiness and mobile bliss. The campaign targeted 18- to 34-year-olds across TV, cinema, OOH, print, in-store, digital pre-roll, digital display advertising, social and paid search.

The first month saw a 23.6% increase in new subscribers versus the month prior. Brand consideration among the core target increased 55% during the campaign period, putting Koodo on par with the Big Three national providers and significantly ahead of other value providers. Koodo's 2015 media budget was lower than 2014, giving the brand a 16% share of voice among its "value" competitors, and there were minimal changes to Koodo's distribution during the campaign period.