CASSIES Gold: Swapping gifts for Skittles
The confectionery brand inserted itself into the holiday season by finding an untapped angle in excessive gift giving.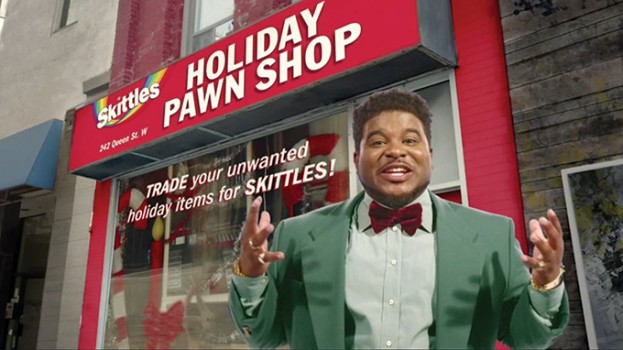 This article appears in the March/April 2017 issue of strategy.
GOLD: Seasonal+ Silver: Brand Content
SITUATION ANALYSIS | Skittles has become a successful confectionery brand by taking risks and being provocative. However, the candy is sometimes overshadowed during the holiday season – the second highest volume period for confectionery, behind Halloween – when consumers tend to purchase niche brands (like Toblerone and Lindt). Traditional brands like Skittles experience volume declines as people buy candy canes, gumdrops and marshmallow Santas. There is limited opportunity to drive incremental seasonal sales of Skittles.
INSIGHT & STRATEGY | While people love the holidays, there is one thing they don't love – receiving an awful gift they'll never use. Research shows that nearly 75% of Canadians have been disappointed by a bad holiday gift at one point in their lives.
There was an opportunity for Skittles to enter the holiday conversation by converting bad gifts into good candy, reinforcing the brand attributes – unique, irreverent, youthful – that had been driving its long-term health and growth.
EXECUTION | The brand decided to launch a pop-up store called "The Skittles Holiday Pawn Shop" on Boxing Day. Inside the store, people could exchange unwanted holiday gifts for Skittles.
From December 2014 to February 2015, "The Skittles Holiday Pawn Shop" was supported by a $200,000-plus budget and focused on the Greater Toronto Area. The campaign launched with a promoted video on YouTube and Facebook let viewers know they could trade bad gifts for real Skittles. The program was supported by print, social posts and PR.
Skittlespawn.ca encouraged people to upload photos of their unwanted gifts to be appraised for their Skittles value. Real-time "appraisers" valued each submission and instantly provided a certificate that could be redeemed for Skittles. For those unable to make it to the shop, the appraisal certificate gave them $2 off a bag of Skittles. The brand also partnered with YouTube influencer Lilly Singh to promote the store. Multiple video segments were filmed featuring social influencers and Skittles fans who pawned off their unwanted gifts. At the end of the campaign, all the swapped gifts were donated to one of Canada's largest charities.
RESULTS | National seasonal Skittles sales increased by 16% versus the previous year. The ROI delivered by the program was well above corporate benchmarks and hurdle rates.
CAUSE & EFFECT | "The Skittles Holiday Pawn Shop" garnered 98.8 million earned media impressions, 2,700 store visits over five days, 15,984 website submissions, 51,798 site visits, 4.4 million video views and 503,000 total engagements. The social commentary and interaction was 98% favourable. There was no difference in overall sales incentives versus the previous year and no changes to distribution.
CREDITS:
Client | Wrigley Canada
Marketing director | Dan Alvo
Marketing manager | Julia Mauer
Assistant brand manager | Kurtis Wong
Agency | BBDO Toronto
SVP, ECDs | Todd Mackie, Denise Rossetto
VP, ACDs | Chris Booth, Joel Pylypiw
Agency producer | Terry Kavanagh
VP, group account director | Kristina Hayes
Account director | Saloni Wadehra
Account executive | Zach Kula
Media agency | MediaCom Canada
Account management | Michael Mills, Amber McKean
Production | Alaine Perrow
PR agency | Harbinger
Production company | Creative Soul
Director | Matt Eastman
DOP | Michael Banasiak
Producer| Evan Landry
Executive producer | Adam Palmer
Editorial house | Panic and Bob
Editor | Steve Puhach
Post production | Smith
Colourist | Bill Ferwerda
Online editor | Brodie McNeill