CASSIES Gold: Unpausing SickKids' lives
Cossette's campaign led to record donations with tech that skipped to a happy ending.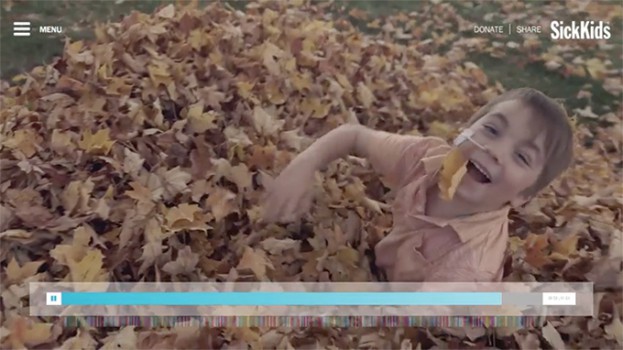 This article appears in the March/April 2017 issue of strategy.
GOLD: Cause

SITUATION ANALYSIS | Each year SickKids launches a fundraising campaign during the holiday season. Past campaigns have consistently set the bar higher for donations, making it difficult to surpass year-over-year. SickKids' goal was to build on the success of the 2014 campaign and increase year-over-year online donations by 10%.
INSIGHT & STRATEGY | Research shows that the propensity to donate tends to increase when the achievement of a goal feels more tangible. So if prospective donors believed they were contributing to a solution, they would be more likely to participate.
When children are diagnosed with an illness, their life is put on pause: everything from playing sports to attending school to being with family and friends. By allowing potential donors to "unpause," they could immediately see the impact of their contributions.
EXECUTION | The "Life Unpaused" campaign ran from November to December 2015 in the GTA and was supported by a $100,000 budget, with video and custom content pieces running across TV, digital and social.
The campaign leveraged call-to-action technology within a video. SickKids followed up with patient stories from the 2014 campaign, but this time the stories included a twist: each video was paused mid-way and then prompted the viewer to donate in order to unpause it. Immediately following a donation, the video resumed with new footage of the child living a normal healthy life.
The content encouraged conversation, sharing and donations, and potential donors were able to see the "social proof" of others who had already made a donation by having the names of donors appear below the video bar. Media weighting and creative rotation were continually optimized, based on donation levels per child, media engagement rates and on-site behaviour.
RESULTS | SickKids exceeded the goal of 10% online donation growth, with the average donation amount increasing by 50%. Overall, donations increased by 32% to a record $49 million – $12 million more than the previous year. The campaign significantly strengthened the overall impression and desired brand image of SickKids, and increased people's likelihood to donate. Benefitting from additional donated media value and social uptake, the campaign achieved a 26-fold ROI increase.
CAUSE & EFFECT | Sixty percent of GTA residents remembered seeing at least one of the ads, which was a nine-point increase from 2014. The two-minute spot was SickKids' highest performing post to date on Facebook, reaching more than four million people with over 72,000 interactions. Overall, the campaign generated 74.5 million impressions. Results were achieved with a similar budget to 2014.
CREDITS
Client | SickKids Foundation
VP, brand strategy and communications | Lori Davison
Director, integrated brand marketing | Kate Torrance
Director, digital projects | Mark Jordan
Manager, patient ambassador program | Lisa Charendoff
Marketing manager | Harleen Bhogal
Agency | Cossette
CCOs | Carlos Moreno, Peter Ignazi
ACD | Jamie Cordwell
AD | Jessica Wong
Copywriter | Darrel Knight
Senior interactive designer | Gustavo Oregel
Agency producer | Heather Moshoian
Account executive | Olivia Figliomeni
Account director | Hanh Vo
VP, national brand director | Steve Groh
SVP, national client lead | Andrea Cook
Director, strategy | Kevin McHugh
CSO | Jason Chaney
UX/CX coordinator | Thomas Wilkins
VP, experience strategist | Tara O'Doherty
VP, product and technology strategy | Joe Dee
Technology and innovation partner | Hoffman Digital
Technical director | Dominic Gignac
Lead developer | Clément Guillou
Production house | Skin and Bones
Media Agency | Cairns Oneil