CASSIES Silver: McDonald's stirs up a winning rivalry
Cossette and the QSR built a campaign around a special burger to test on Bruins fans.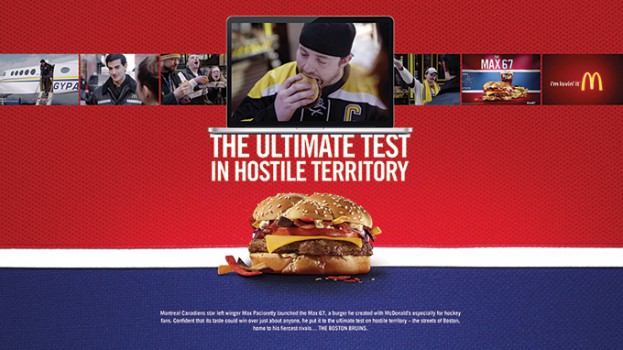 This article appears in the March/April 2017 issue of strategy.
SILVER: Retail
AGENCY | Cossette
SITUATION ANALYSIS | McDonald's 25-year sponsorship of the Montreal Canadiens, and its link to French-Canadian consumers, was threatened by direct competitors who had also become sponsors of the team. The QSR needed to take its partnership to another level in order to be perceived as a dominant "player."
INSIGHT & STRATEGY |McDonald's and the Montreal Canadiens are both "unifying" brands, and Max Pacioretty, a central character in the long-standing Montreal Canadiens–Boston Bruins rivalry, is a fan favourite. McDonald's wanted to position itself as a unifier by bringing together both sides of a bitter rivalry.
EXECUTION | The brand and Pacioretty created the Max67 burger and offered it to everyone – even Bruins fans – for a limited time.
Launched in March 2015 in Quebec with a $1-million budget across TV, digital and social, Pacioretty dressed as a McDonald's employee and introduced his signature burger to a crowd of unsuspecting Bruins fans in Boston. They were asked on camera what they thought of the burger before and after he was revealed as its creator.
RESULTS | McDonald's generated an incremental traffic increase of 31% in Quebec during the three-month program, with 31% of Max67 buyers visiting the restaurant solely because of the promotion. The Max67 achieved more than 2.5 times the average incremental sales of a limited-time offer and increased key brand metrics including "Has good-tasting food" (+17 points) and "I feel closer to the brand" (+33 points).
CAUSE & EFFECT | The campaign generated more than 27 million organic impressions, achieving 93.7% brand recall and 91.1% product recall – double the average for regular McDonald's advertising. Intent to purchase after communication exposure was 43%, 1.5 times higher than the IPSOS norm in the category.