How a Montreal fintech hub would benefit banks
A new report from EY suggests a few steps could turn the city into one of the sector's biggest players.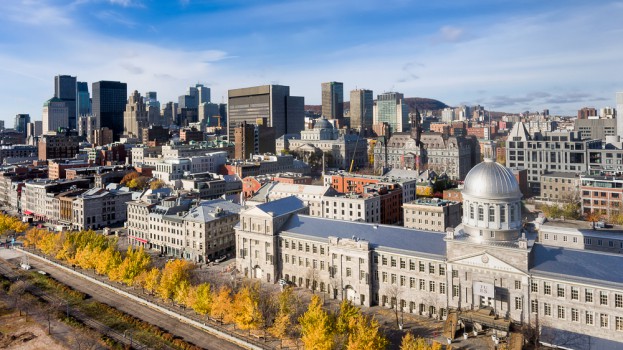 A new report from EY suggests Montreal may be the Canadian city best suited to host fintech investment. The report lays out a four-step process that would greatly increase the city's global prominence — four steps that could serve as investment opportunities for companies eager to be seen as market leaders.
Canadian financial institutions have been making strides to foster fintech development, with major banks setting up new innovation-focused partnerships and centres across the country. But while Toronto is currently hogging the spotlight for such work, EY says Montreal should be considered for its unique opportunities that bypass hurdles found elsewhere.
While regulators are working to ease Canada's stringent regulatory environment that critics say hamper startup innovators, EY calls out the fact that Quebec in particular has many tax programs and credits available to companies focused on innovation. The provincial government has launched a $200 million action plan for the digital economy to support tech and data innovation.
Montreal ranks only behind Toronto in terms of the number of tech and financial professionals working in the city and students currently studying there. Incubators at the city's four largest universities suggest that talent pipeline will continue to produce qualified graduates. Montreal is also home to a high number of incubators that can support fintech startups as they develop, and resources and overhead costs are relatively low compared to other major cities.
The city also has a high number of VC-financed companies, with investments representing a higher percentage of the province's GDP than other markets EY has examined in the past – though it is difficult to direct those funds to newly-established companies, as the development of fintech products is not well-suited to the shorter-term profits VCs are looking for.
EY's report suggests four steps that could make the most these opportunities. All of the major financial institutions based in Quebec said in interviews with EY they were developing their own fintech strategies and monitoring the opportunities for partnerships that could be a part of that.
A hub to give everyone a stake in the game
The first and most important step, according to the report, is the founding fintech hub that develops and supports the city's new and developing fintech companies. This hub would create a more closely connected network of stakeholders, giving everyone access to shared resources and and making major financial institutions – such as National Bank, Bank of Montreal and Desjardins – more involved with developing new companies.
The major players in things like Montreal's development into a global player in the artificial intelligence field could also be brought in, drawing on that strength to specialize and differentiate the fintech hub from other similar centres on the global stage.
A program to bring big banks and fledgling startups together
To help established brands tap into fintech startups, EY also recommends the creation of mentorship program, with established financial institutions in the province assigned a mentee for four to six months with no proviso for exclusivity. That would give new companies access to resources and help in navigating the regulatory environment while also giving the banks a direct point of contact to the startup community and their innovation-focused thinking.
Driving innovation around regulation
Pointing to a similar effort done by the Monetary Authority of Singapore, EY recommends a "sandbox environment" operated in conjunction with regulatory authorities. This would allow for the testing of new financial services and business models in a controlled environment under rules tailored to early-stage fintech companies. Within such a closed system, development of new innovations would not be hindered by regulations while giving the relevant authorities a working view of the risks those regulations are meant to prevent.
Keep the talent pool thriving
The fourth step calls for financial and academic stakeholders to establish a new, standardized university curriculum for finance and tech to ensure the talent pipeline keeps flowing. This curriculum would not only encourage engineering and tech grads to enter the financial space, but ensure the city's pool of graduates are well-prepared for the sector's increased digitization.

EY conducted the research in association with Finance Montréal. It came to its findings by compiling data on investments that have been made in fintech from both private and public databases, and combining them with qualitative interviews with academics, investors and analysts. It examined the same factors as in previous studies done in other markets such as the U.K. and Switzerland: talent, demand, capital and policy.