Oikos goes for more fulfilling mornings
After targeting nighttime snackers last year, Danone Canada adds grains to its Greek offering.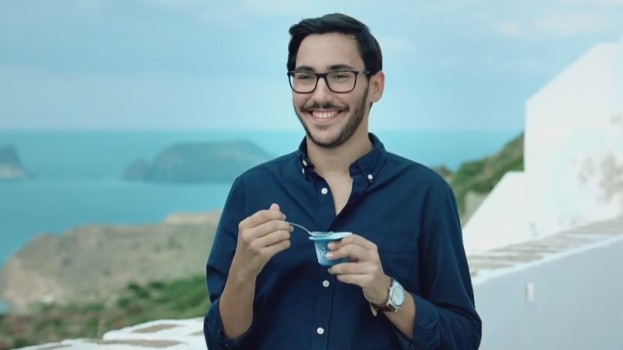 Danone Canada's Oikos yogurt brand is going after the morning snacking occasion with its latest product launch, keeping its dreamy creative to support the debut.

Oikos SuperGrains, sold in multi-pack format, is made up of Greek yogurt and a variety of grains including quinoa, chia, buckwheat and flaxseed. Positioned as the right mix of protein and texture, it aims to fill the snacking occasion between breakfast and lunch, says Arthur Sylvestre, brand manager at Danone Canada.

The launch was backed by extensive consumer research, including findings from Nielsen and TNS that suggests consumers are looking for healthier snacks that keep them full, especially in the morning, to take control of their day, Sylvestre says. Its primary target is young professionals with active lifestyles, or what is calls "healthy indulgers," though it also hopes to reach the 45-plus demographic.

Oikos has largely positioned itself as a brand for snacking generally. The SuperGrains' launch, for example, comes a year after it debuted Oikos Creations, a dessert-like line targeting nighttime snackers. The brand typically has one major product launch per year with the goal of answering consumer needs in what Sylvestre calls a quickly evolving category.

To support the SuperGrains launch, Oikos is continuing to use its "Dream" platform, again using its central character, Simon, as he uses his yogurt tasting to delve into dreams featuring his love interest, Daniela.

This time, though, the dream is more fulfilling, with the couple getting some divine intervention to help their love story along – an update to the creative and a nod to Oikos' SuperGrains being a more robust yogurt snack.

The campaign has resonated well, Sylvestre notes – the campaign's initial launch in early 2015 boosted the brand back into positive sales growth after losing share to brands like Iogo and Liberté. Oikos currently holds the top position in the Canadian Greek yogurt segment, holding roughly 40% of the market as of the end of 2016, according to Sylvestre.

Oikos is supporting the launch in-store with POS at shelf, FSIs and couponing, and the brand will be using in-store sampling to drive product trial across Canada, mainly at Loblaws, Walmart, Sobeys, Metro, Co-op and stores that are part of the Overwaitea Food Group.

"Oikos is a very impulsive brand and we know that when people see Oikos in the store they tend to put it in the basket a lot more," Sylvestre says.

Along with a mass campaign including 30- and 15-second TV creative in English and French, OOH focused on transit shelters and a digital buy including banner ads and 15-second videos, Oikos also has a hockey integration strategy, aimed at reaching more of a male target.

Creative for the SuperGrains launch was led by Taxi (formerly Saint-Jacques Vallée Y&R), with Carat on media. The brand also works with Geometry Global on POS advertising, Mirum on digital, Carl on social media and National Public Relations.