Trend to Shelf: Coast Protein's cricket play
The Vancouver startup aims to scale and take insect-based bars and powders more mainstream.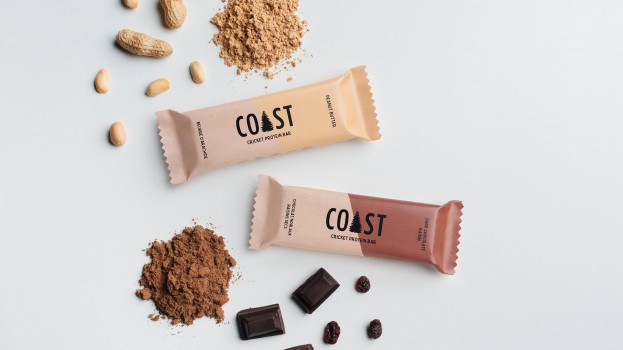 A Vancouver brand is hoping its line of cricket-based products will go mainstream by scaling its production and convincing Canadians that insects are worth embracing as a snack.

"The problem with insects isn't the science, or the nutrition, or the taste – they just have an image problem," says John Larigakis, co-founder and creative director of startup Coast Protein, which offers protein bars and powders with crickets as the central ingredient.

"We as marketers have the ability to change that," says the creative, who is also currently a senior art director at DDB Vancouver.

Coast was founded by entrepreneur Dylan Jones alongside Larigakis and Chris Baird, a digital marketer who spent several years on the marketing team at menswear brand Indochino. They, along with partner and R&D head Stefanie Di Giovanni, make up Coast's lean team.

Currently, the business is largely self-funded with some seed capital from friends and family. Its bars are made by hand in a small commercial kitchen, and since launching in several small Lower Mainland retailers in November 2016, it has doubled its sales each month.

The plan is to now seek additional investment  to scale its manufacturing and, eventually, sell its bars and powders in larger retail locations and online. On Monday, it launched a crowdfunding campaign on Kickstarter aimed at raising $20,000. By press time, it was up to just over $16,000.

The competitive set for insect-based protein bars isn't yet that large, Larigakis says. Coast maintains it's the only such offering in Western Canada, though a few other brands exist worldwide, including Exo Protein and Chapul in the U.S. and Crowbar Protein's Jungle Bar line out of Europe. Ontario's Entomo Farms also offers various insect-based products, including powder and pet food.

The market is, however, set to grow. A report from Global Market Insights projects the worldwide edible insects market – pegged at $33 million in 2015 – to grow to $520 million by 2023. Alternative protein, including from insects, is also a trend that Loblaw Food Council recognized in its inaugural report late last year.

Coast's positions its brand around nutrition (high protein) and more sustainable sourcing (since insects use fewer resources than other sources of animal protein).Its target market is active millennials, young families and shoppers who are sustainability-minded, Larigakis says. The short, natural ingredient list also resonates with young families looking for fewer ingredients in their packaged foods, he says.

The startup has relied heavily on its internal expertise to create its branding and social content, but that – alongside testing various recipes to settle on the right flavours – has led to organic traction from bloggers and others on social media, Larigakis says.