Cascades goes for shelf appeal with big-eyed bunnies
Inside the CPG's decision to revamp its household product lines and create more memorable characters.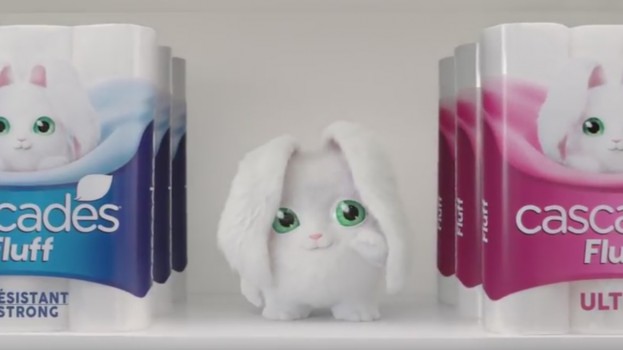 Cascades has switched up its product offering, hoping to better compete with leading brands while still maintaining its eco-friendly positioning.

The Quebec company has launched a new line of household bathroom tissue and paper towels, branded as Cascades Fluff and Cascades Tuff, respectively. The five new products to bear the new branding will gradually replace current Cascades products on shelves across Canada, though the brand does have a heavier presence in its home province.

Two years ago, the brand's research and development team set out to find out how it could improve its performance in the market. While Cascades will not disclose specifics, Thierry Trudel, VP marketing communications, says it was not where it wanted to be. The company has ambitious plans to get to a "respectable" market share position.

Through its R&D initiative, Cascades saw an opportunity in creating softer and stronger products that could stack up against leading competitors but still maintain the environmental aspects its brand was known for.

"Before, we were really pushing on the environmental story," Trudel says. Consumer research supported that Cascades' name is associated with being green, positioning it's had for 50 years, he says. The products are still composed of 84% recycled materials and other responsibly sourced fibres, while its manufacturing process uses 6.5% less water than the rest of the industry, according to Trudel.

But with the new product line has also come new packaging and marketing centred more on product performance and softness to rival other family-targeted brands in the category. To complement the product change, the brand settled on actual bunny characters named "Fluff" and "Tuff" to support its positioning.

Based on shopper research, consumers make decisions at shelf for paper products within six to eight seconds, Trudel says. "It's really something that happens in a snap."

That meant creating characters, visuals and packaging that would break through at shelf and be memorable for shoppers.

Along with POS materials and in-store displays supporting the launch, the brand has also launched an ad campaign to introduce Fluff and Tuff to consumers, initially with a longer spot supporting the bathroom tissue and a shorter online spot showing off the new "Tuff" character and nodding to the paper towel's absorbency. Cascades worked with Sid Lee on its branding revamp, strategy, creative and media.