Polar Ice goes bear-less
Why the vodka brand has made a temporary change to its bottle design.
Corby Spirit and Wine's Polar Ice has changed its bottle design to connect its brand with a cause and call attention to its Canadian roots.
For the first time, Polar Ice has temporarily revamped its bottle as part of its first community-based marketing effort. As part of a new partnership with Polar Bears International, the brand has temporarily removed the bear from the bottles for both its classic and 90 Degrees North products.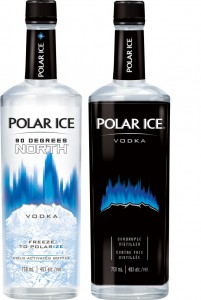 Similar to General Mills' bee-free Honey Nut Cheerios packaging change for "#BringBacktheBees," the disappeared bear is a nod to what the future will be like with continued melting sea ice and a diminishing polar bear population.

While there is no percentage of proceeds tied to the campaign, the brand did make a donation to the organization for an undisclosed amount, says Chris Bhowmik, marketing director at Corby Spirit and Wine. More than a joint fundraising effort, the idea is to create awareness and align the brand to the cause, he says.

Each new bottle comes with a mini-booklet neck tag that includes a series of detailed FAQs about the declining polar bear population and drives to more information about Polar Bears International. Polar Ice is also using social media and PR efforts to support the partnership.

The limited edition bottles hit shelves in late February and will be available until about early April, depending on sales velocity. The bottles are available nationwide except in Saskatchewan and Quebec, where the brand is currently working on regionally specific programs.

Polar Ice is currently the fourth largest vodka in the total vodka category based on litres sold and is experiencing steady growth, Bhowmik says.

"Surprisingly, this has been an opportunity for us to really communicate our Canadian heritage," he notes. The vodka category comes with initial perceptions about origins and consumers often don't think Canada-first when it comes to the spirit, he says.