The best in brand foolishness
Our sister site Stimulant rounds up some of the top prank ads from April Fool's Day.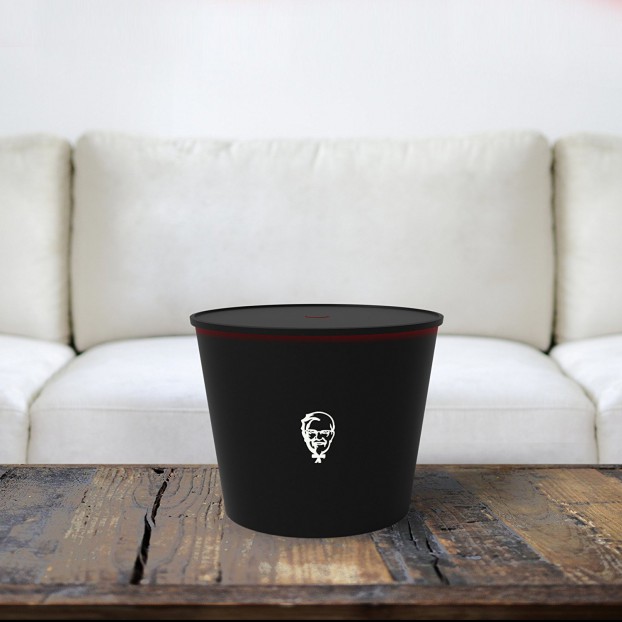 Happy belated April Fool's Day, readers (or this year, April Fool's Weekend, we suppose). To celebrate the occasion, strategy's sister site Stimulant has rounded up some of the quirkiest brand and agency moves at home and abroad this year.
The finger lickin' future is upon us
We've seen KFC get creative with its classic bucket before, but it's taken a page out of Amazon and Apple's books with its new voice-controlled bucket.
Apparently powered by herbs and spices over batteries, the bucket allows for hands-free delivery and customizable profiles based on meal-time moods, continuing to learn chicken-lovers' voice, habits and dining preferences.
Sadly, it's (strangely) currently unavailable for purchase online, but these terrifying reviews from some buyers have us convinced it's probably for the best.

A prank straight from the stars
Forget targeting by gender, age, income level or interests. Toronto-based advertising platform StackAdapt is shooting for the stars with its April Fool's Day product in what it calls a collaboration between the company and the constellations in the sky.
Called Astrological Targeting, the add on to StackAdapt's self-serve advertising platform was said to allow brands to target by astrological sign, diving into the emotional triggers behind each zodiac sign to discover how they could impact consumers choosing certain brands over others.
The platform allows clients to target consumers with relevant content based on the current astrological cycle on a daily basis.
To be clear, this was an April Fool's Day joke and shouldn't be used as part of your next digital client briefing.
Wear your love of New York Fries on your sleeve
New York Fries has gotten into the e-commerce game – and it may be closer to reality than a joke.
Seemingly poking fun at other brands launching product lines for their biggest fans, New York Fries' online store offers everything from shirts to phone cases to baby onesies to bikinis in an online store that launched on Saturday.
As far as April Fool's Day executions go, this doesn't actually feel like much of a "prank." After all, New York Fries would hardly be the first Canadian restaurant or QSR to offer branded apparel and product lines.
This feels more like when you would tell your crush how you felt about them under the guise of a joke to protect yourself if they didn't feel the same way. If you try to add one of the products in New York Fries' "spring collection" to your cart, a pop-up window will reveal it is prank…but also gives you the option to let the company know that you would buy it if it were real, and give them your email address so you can find out if it does happen.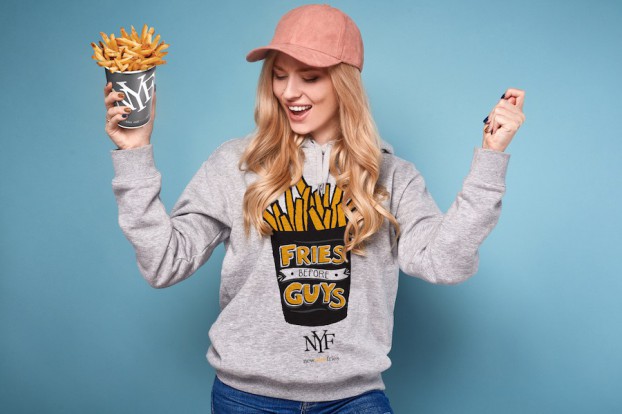 Fewer wheels, better planet
For those who thought bicycle delivery was as environmentally friendly as it gets, Foodora has challenged that.
Ahead of April 1, the food delivery brand announced its "One Wheel for a Better Planet" initiative, minimizing greenhouse gases further by swapping its signature pink bikes for unicycles.
As Foodora Canada's managing director David Albert points out, the pilot program is backed by research: "The unicycle is the lowest emitter of greenhouse gasses per kilometre travelled, and according to the Global Sustainability Initiative Against Two Wheels (GSIATW), eliminating an extra wheel and 60% of the materials used will save our landfills from two tonnes of waste each year."
Check out the video below for more.
A toothpaste to keep burger breath going strong
Though it has all the markings of an April Fool's Day prank there are some who are likely hoping that Burger King France is indeed coming out with a Whopper Toothpaste.

Created with its agency, Buzzman, the toothpaste is said to contain "active Whopper extracts" for teeth and gum health. A release on the product said "you won't ever have to hesitate between enjoying a Whopper and brushing your teeth ever again."

According to the release the toothpaste is coming soon to Burger King restaurants and drugstores in France.