Lowe's helps consumers go hands-on with VR
The retailer is piloting a new, DIY-focused version of its Holoroom as part of its mission to embrace innovation.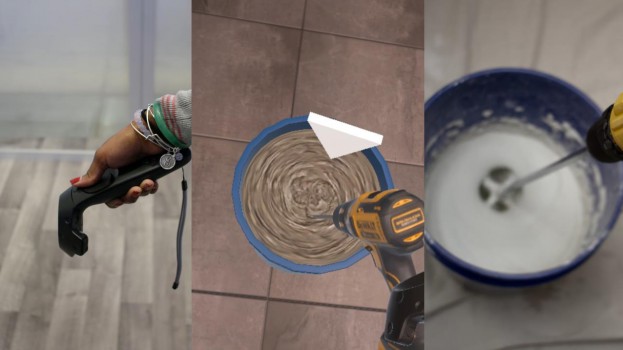 Lowe's is bringing a new version of its Holoroom virtual reality experience to Canada to help educate consumers and strengthen its commitment to innovation.
The first version of the Holoroom was tested in Toronto in 2014 and at more than a dozen locations in the U.S. the following year. It used VR to help customers visualize renovations in a kitchen or bathroom, allowing them to choose fixtures, appliances and decor to fill a virtual room.
This time around, the Holoroom is instead being used as an educational tool, giving consumers a lesson on how to do different in-home renovation projects.
Using a VR headset and two handheld controllers, users are given step-by-step instructions, from picking up and using tools to mixing materials. Haptic feedback in the controllers add extra realism to the experience, doing things like vibrating while a tool is in use.
Already launched at a Lowe's location in Burlington, Ontario, the new Holoroom concept will soon appear at a Rona location in Beloeil, Québec. (This version of the Holoroom debuted last month at a Lowe's location just outside of Boston.)
Claire Bara, VP of strategy and business insights for Lowe's Canada, says a lack of knowledge and confidence can be a big barrier to consumers tackling a renovation project, so the company is always looking for ways to give them the know-how they need. Because it allows consumers to go hands-on without the real-world consequences of doing something wrong, VR is particularly well-suited to a teaching experience.
"When it comes to learning new skills, humans learn better by doing," she says. "This is why VR is an amazing experience for us. You are grabbing the tools, mixing the mortar, feeling the tools shake, and that enables you to have a better recognition of all those steps when you are in the real world. That fits with our overall mission, because if we have the ability to not just sell the product, but do on-demand skills clinics like this, that adds to the value for our customers."
When testing the Holoroom's new design, one group of consumers was taught how to re-tile a bathroom by watching a YouTube tutorial, while another group was taught using the Holoroom experience. The group that experienced the Holoroom had 36% better recall of the steps and products involved than those who watched the videos.
This is a pilot project, and whether other locations get the technology installed will depend on consumer reaction in the first three stores. Beyond just determining demand for a wider roll-out, Lowe's is also looking to further prove the potential applications of tech like VR and AR in the home improvement space.
Cross-border cooperation
While the Lowe's Innovation Lab is based in Seattle, Lowe's Canada has been deeply involved with the work it does there, and the first version of Holoroom was the first project to come out of the space. Bara says she hopes the cross-border relationship will get even stronger in the future, especially since Lowe's acquisition of Rona has not only given it a larger retail footprint, but a variety of store formats, banners and customer types, which makes it a great place to pilot future innovations in the future.

Innovation has become an increasingly important part of the Lowe's brand internationally. The Innovation Lab has run pilot projects exploring the use of in-store robots and 3D printing, and the master brand has conducted consumer-facing campaigns that utilized VR, 360-degree video and new social platforms.