Tech in Action: Take a drive far, far away
Nissan uses VR to show off how its safety features would fare in the world of Star Wars.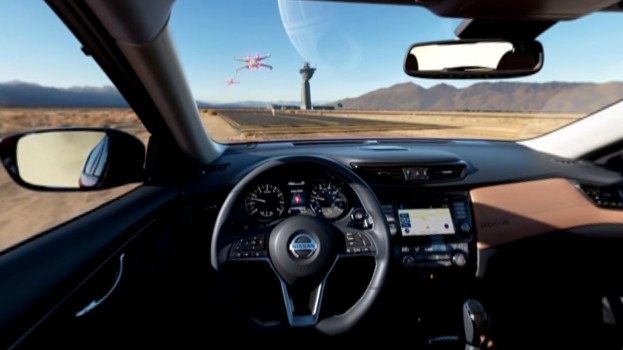 Nissan has launched a VR experience that puts one of its vehicles to the test by placing it in the world of Rogue One: A Star Wars Story.

Developed by Critical Mass, the experience has the viewer being saved from evil Imperial forces by a group of Rebel Alliance soldiers, who provide a 2017 Nissan Rogue as a getaway vehicle. Dodging laser fire and falling Imperial walkers while TIE Fighters and X-Wings fly in dogfights overhead, the driver also gets to see all of Nissan's "Safety Shield" technologies in action, such as Forward Emergency Braking with Pedestrian Detection, Blind Spot Warning and Around View Monitor with Moving Object Detection.

In addition to showing off the Rogue's range of safety features, the experience – which launched across VR platforms as well on YouTube and Facebook earlier this month – is also promoting the home release of Rogue One. And if seeing a distinctly Earthling vehicle on an alien planet feels a bit strange to you, it is a continuation of a concept featured in a spot created ahead of the film's theatrical release last year.

Putting users behind the wheel of a vehicle is an obvious application for VR and 360-degree video in the automotive space, which has resulted in a number of executions that are very similar, although some have tried to add to the experience by incorporating storytelling elements. What makes Nissan's experience nice is not only the tie-in to a differentiating product feature (instead of an in-vehicle view of the same landscapes any car could offer) but the starfighters and other recognizable elements from the franchise that Star Wars fans will get a kick out of, giving them a reason to look around and justifying the use of VR.