Don't discount the dollar store, and other lessons
We break down three main takeaways following strategy's annual Shopper Marketing Forum.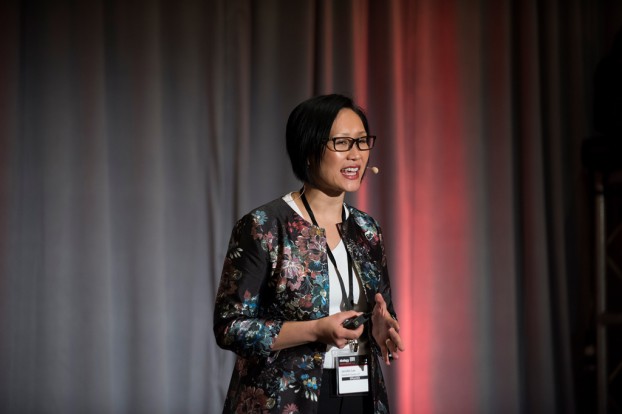 By Harmeet Singh and Jeromy Lloyd
Pictured: Deloitte's Jennifer Lee presents during strategy's 2017 Shopper Marketing Forum.
Strategy's annual Shopper Marketing Forum wrapped up Thursday after two days packed with research, insights and opinions about Canada's retail and CPG landscape. Here, we break down three key takeaways from this year's speakers. Looking for more? Check out strategy's bi-weekly Shopper Marketing Report to dive even deeper into industry news and insights.
Beyond the $1 dollar store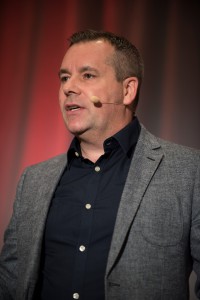 While the dollar stores of Canada aren't yet on the same level of their U.S. counterparts, in terms of offering fresh and refrigerated items, they're getting there, says Carman Allison, VP of consumer insights at Nielsen Canada.
Those retailers are pushing the food agenda, with their foods business (versus non-grocery or health and beauty items) growing between 2011 and 2016, and set to continue to evolve.
Market share for that retailer type in Canada is set to grow to 1.9% in 2020, Allison says – still small, but growing.
Last year alone, three-quarters of Canadian households shopped in dollar stores, making nearly 115 million trips. The face of that shopper is also changing, with higher income households increasingly spending in those stores.
What's more, the price points at dollar stores are evolving. Last summer, Dollarama introduced the $4 price point and Allison says this year could see that retailer or another introduce the $5 price point as well.
"So the question is, are you ready for that?" Allison says, referring to CPG brands. "Do you have items in your portfolio that you're planning to list at dollar stores as they continue to move up their [price points]?"
The online grocery opportunity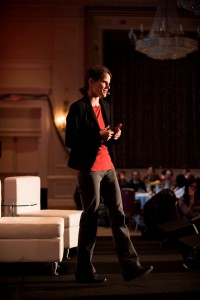 Kantar Retail's director, Robin Sherk, provided lots of ammunition for what she calls the "arms race" of online grocery retail. Loaded with data that examined how millennial shoppers are buying into buying online, she pointed to several new players in the space as big opportunities for brands.
Retailers are starting to see companies such as Uber Eats and Instabuggy that provide on-demand grocery delivery as service partners. "When I see this… it tells us there's a new rising touchpoint on the landscape and we're already seeing [companies] connect with these touchpoints because they realize this is going to drive grocery conversion. It provides the convenience [shoppers] want."
Brands and retailers could see these services as mere fulfilment vehicles, but Sherk sees them as "shopper marketing platforms." Ben and Jerry's ice cream, for example, ran Facebook ads that offered a preferred flavour that could be delivered to a consumer's door in one hour via Uber Eats. "That's engaging. Talk about a call-to-action: 'click here and get it now.'"
Meeting polarization with emotional analytics
The polarization of retail has been a recurring theme over the past few years, as Canadians witness mid-tier brands lose relevance to both discount stores and luxury banners.

"The challenge in retail is where do [brands] actually focus?" says Jennifer Lee, partner and national retail and omnichannel leader at Deloitte Canada. "The retailers that couldn't define whether they were discount or luxury are the ones that went out of business."

While fashion apparel is the oft-cited example, Lee says the same is true across other categories, including grocery. For brands, that can translate to volume being driven down as retailers seek certain product types for specific banners and CPG brands who fail to understand this dynamic will lose out, she says.

Traditional demographic segmentation is also beginning to lose its relevance, she says. Parameters like gender and income matter less than lifestyle as consumers split their spending, Lee says. The same shopper buying a $10 T-shirt at a lower-cost retailer might also drop several thousand on a luxury handbag, even if they re-sell it online later.

The answer, though, may lie in lifestyle analytics, an area where CFOs will invest time and money in as they seek efficiencies in omnichannel models, which have actually led to declines in return on assets.

Over the next five years, the need for more lifestyle-based segmentation will create more demand for emotional data sets to drive insights, she says.

This is already happening – even on the discount side, where margins are lower, she says. She points to Uniqlo, which has already used neuroscience to gauge shoppers' moods and drive purchases as one example of the potential behind these kinds of investments.