Where to find growth and opportunity in ecommerce
A new survey from KPMG bids brands to help Canada catch up to the global market.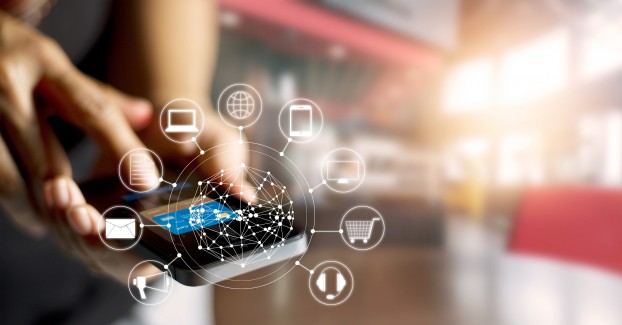 Many of those who subscribe to the purchase funnel philosophy of marketing tend to focus on ecommerce's effects on the bottom of that funnel: the moment of purchase. But a new study from KPMG suggests the current digital marketplace has seen digital media's influence crawl higher in the process.
The consultancy firm also makes a point of saying that Canada's ecommerce options lag other nations, and this gap presents an opportunity for those brands and retailers willing to invest.
Pointing to eMarketer data that projects ecommerce will account for $60 billion – or 9% – of Canadian retail sales by 2019 (up from 5% in 2014), the study's authors say "despite the highest internet penetration amongst G20 nations, online purchasing in Canada has lagged behind other countries and we have some catching up to do.
"With positive experiences online, some provided by Canadian organizations but many provided by global companies, ecommerce in Canada is now poised to take off."
The firm's own study involved more than 18,000 consumers, including more than 500 Canadians. It tracked online purchase behaviours and consumer expectations, and tracked how those factors shape decisions made at the awareness, consideration, conversion and evaluation portions of the purchase journey.
Grocery and alcohol set to grow
The survey asked Canadian consumers to list what types of products they expect to purchase online over the next year, comparing responses to those made 12 months ago.
The strongest performers are perhaps the most expected: books and music (57%), electronics (42%) and women's apparel (40%).
Those sectors showing the fastest-growing interest, however, are grocery, wine and liquor. While still accounting for only a small portion of those surveyed, (25%, 10% and 6%, respectively), they represent double digit jumps in interest. Consideration jumped 56% for liquor over the year, 44% for wine and 37% for groceries.
Furniture and appliances, telecommunications and games are also seeing strong double-digit growth in purchase expectation.
Top of the funnel
Three of the top five consumer awareness drivers listed in the study were online: online shops (which 24% of Canadian respondents selected), online advertising (14%) and email promotions (13%). Canada's affinity for email promotion outpaces that of the study's global average of 10%. However, we lag the global averages on online shops and ads (30% and 15%, respectively).
Also, online shops far outpaced physical shops as awareness drivers; only 12% of Canadians listed a brick-and-mortar store as a factor in learning about a product (vs. 22% globally).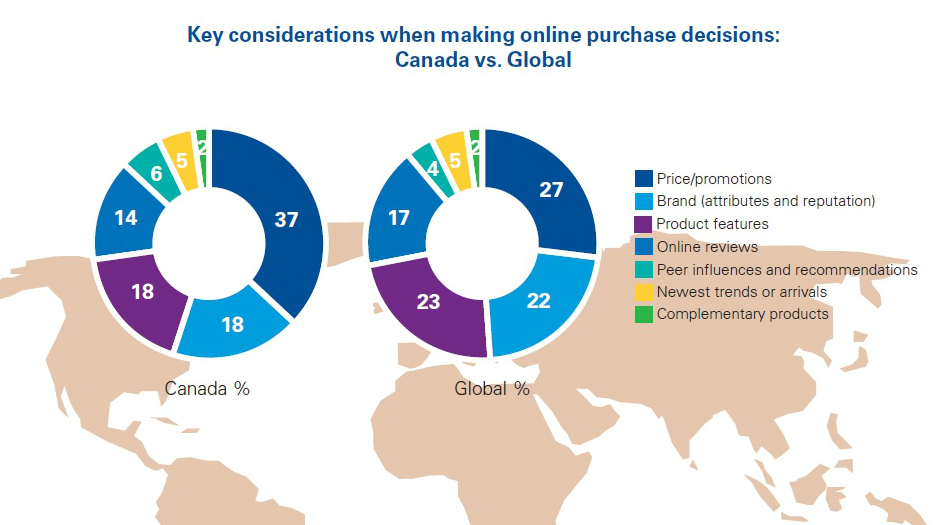 At the consideration phase, price and promotions ranked as the most important factor. Thirty-seven percent of Canadian respondents listed it as a key consideration when making online purchase, as compared to only 27% of global shoppers. It ranked higher than brand reputation/attributes and product features.

"In their search for low prices online, Canadian consumers are also more likely to value free shipping when considering their shopping options," the study's authors said. "Free shipping was cited by 44% of Canadians as a top reason to shop online, compared to 29% of global respondents. With free and short- turnaround delivery times increasingly becoming the norm, Canadian retailers will need to be thoughtful about how they compete."

"We are not at the point of disruption in retail in Canada. We are already being disrupted," said Willy Kruh, global chair and national leader of consumer markets at KPMG. "The key to achieving growth in the online channel will be a client-centric offer across channels that delivers on consumers' rising expectations."