AToMiC 2017: Reinventing the fundraising toolkit
COSTI Immigrant Services and World Vision create products that carry their messages.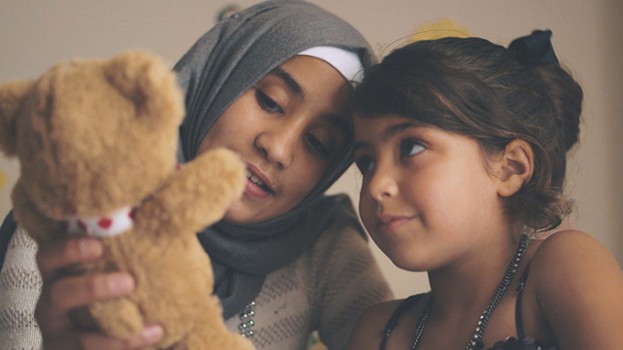 This article appears in the June 2017 issue of strategy.

The Wins: COSTI Immigrant Services "Ahlan Bears" by Rethink Gold Cause & Action, Bronze Best Experiential Engagement, and  World Vision "The Watercolour Project" by KBS Canada / Maxus Silver AToMiC ROI

Selling charity bears and greeting cards with inoffensive art are standard fundraising tactics, which makes finding fresh ways of doing so all the more commendable. COSTI Immigrant Services and World Vision's campaigns did so by putting kids front and centre: the former with a product designed for them, the latter with work created by them.

Since 60% of the more than 40,000 Syrian refugees that have come to Canada since November 2015 are children, helping them integrate is a significant challenge.

The sudden influx has made the process even more difficult. Language is one of the largest barriers, so COSTI and Rethink developed a learning tool to make it easier.

The "Ahlan Bears" were a sort of customized Teddy Ruxpin (the iconic talking bear from the '80s), programmed to help Syrian refugees learn English. The bear with a maple leaf bow tie, whose name means "Welcome," recited useful phrases such as "Welcome to Canada" and "Have you ever seen snow?" The Arabic versions were recorded in the appropriate dialect by nine-year-old Sasha Nafaa, a former refugee.

While teaching kids some language skills, the Ahlan Bears also benefited their parents by involving them in the product's production and distribution, introducing the newcomers to the Canadian workforce.

The bears received coverage in Canadian and international press, and then immigration minister John McCallum even handed some out to new arrivals in Toronto. Next up: a French-speaking bear.

World Vision, KBS Canada and Maxus also built the "The Watercolour Project" around children. With a $30,000 budget, the organization wanted to increase donations for well-building.

To show how access to water can transform a community, the charity had Rwandan kids from villages that had recently received wells create paintings, using water from the new source to depict the impact it had on their lives. The children then donated their work back to World Vision to use as fundraising tools.

At a gala event in Toronto, 20 of the childrens' paintings were sold to fund a new well in a neighbouring community, generating $17,500 and providing donors with a connection to the communities.

Actress Meghan Markle travelled to Rwanda with the organization for an online documentary that was screened at the art event, while generating 8.6 million impressions and increasing traffic to the World Vision site by 33%.