The Young Lions: Sid Lee's Cyber contenders
How Alex Boland and Jordan Gladman plan to use Canadian advantages to compete at Cannes.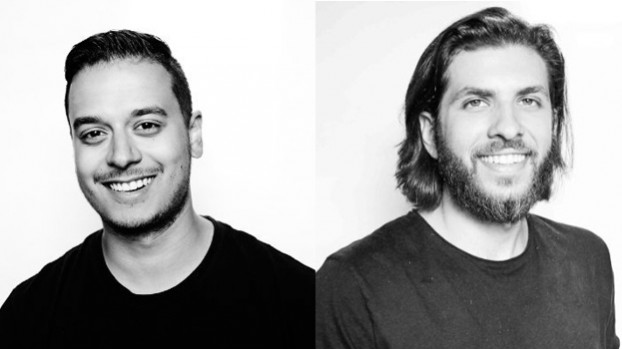 Pictured: Sid Lee's Alex Boland, senior designer (left), and Jordan Gladman, art director, Canada's Cyber Young Lions team.
As we count down to the 2017 Cannes Lions International Festival of Creativity, we wanted to introduce readers to the youthful agency folk and marketers representing Canada in this year's Young Lions and Young Marketers competitions.
When entering Young Lions, creative teams have to think long and hard about which category they'd like to enter. For Sid Lee's Alex Boland, senior designer, and Jordan Gladman, art director, part of the decision to enter Cyber was to push themselves with a challenging category that would bring out the best in them.
But it was also a strategic choice to give them the best chances of getting on a plane to the south of France.
"After competing in print in years past, we know there's a big group of people in that category," Boland says. "To hedge our bets, we figured there'd be a better chance of us going if we did something really awesome in Cyber."
The brief for the Canadian competition that won local teams their spot in Cannes came from Samara Canada, a non-partisan research and educational charity that aims to connect citizens with politics. The organization tasked Young Lions competitors with making its message relevant to a younger, tech-savvy audience.
Boland and Gladman's Gold-winning entry was "The Good Samaratan," a project that would engage with activists and other people being vocal about causes close to them on social media by targeting them with a message to turn their sentiment into action. On Twitter, it would respond to tweets with a relevant person or organization they can tweet at to get their voice heard, as well as statistics about how many other people are talking about the same issue. On Facebook, it would serve them with sponsored posts to get them to engage with a Good Samaratan Messenger chatbot, which would talk to the user about ways to take action about the issue they posted about. There would also be a Google Chrome extension that would use the Google Maps API to locate events like debates and protests near them that are related to content they are engaging with on news and video sites.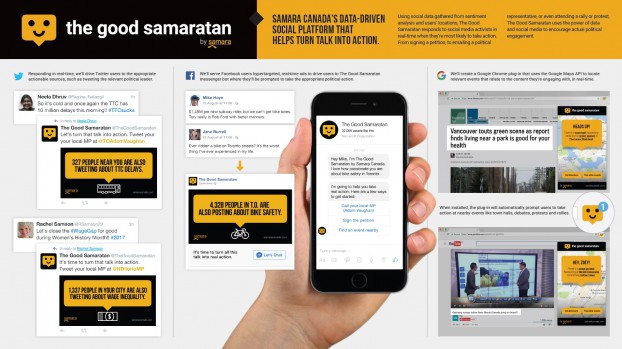 "One thing Jordan made clear at the beginning was that he wanted to do something with data," Boland says. "That's the way things are going – people want experiences that are catered to them and what's going on in their lives. Especially in politics, you need to connect with the issues that affect them on a daily basis, and not just broad, overarching blanket solutions."

The idea was one of the first Boland and Gladman came to, after only a few hours into the 24 hours they had to complete their entry.

"I talked to past winners and others at the office who've competed, and they said you arrive at your best pretty quickly," Boland says. "You might dance around with the details and play around with some other thoughts, and we wandered a bit down some other paths. We were up pretty late, so some of the later ideas probably sounded ridiculous to anyone outside the room. But nothing that could beat that early, gut idea, so it was a no-brainer to run with it."

Gladman has previously been to Cannes after winning the National Advertising Challenge in 2015 while he was at Leo Burnett, but this is Boland's first trip. He's been in touch with Canadian teams that have won in the past for advice on how to compete, and he's prepared to meet teams that are drawing from a wide range of different cultural influences and ways of thinking. But that's one area where he believes being a team from Canada may help give him a leg up .

"Being mixed race myself, I grew up with a lot of different beliefs and influences," he says. "I know what it's like to take a step back from all that and look at what from that is going to make up my approach in everything I do. Being from a multicultural country like Canada is an advantage in a situation like this because you can tap into those more universal truths that seem to come together here."

Canada's best Cannes Lions coverage is at StrategyOnline.ca. Check back from June 17 – 24 for all the winners and insights from the International Festival of Creativity. For easier updates, subscribe to our daily morning newsletter.