Nature's Way makes a play for grocery aisles
With big chains looking for more supplements, Nature's Way formulates a new retail plan.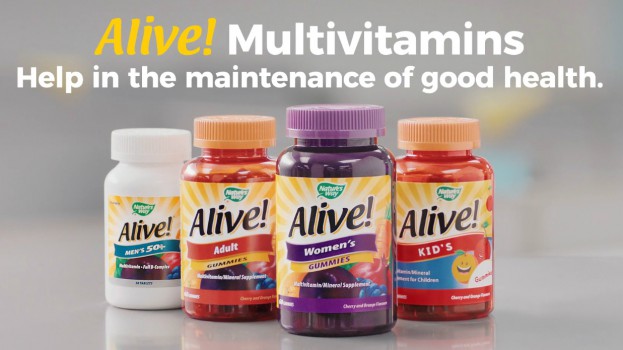 Nature's Way, a multi-brand natural supplement company, has launched its biggest consumer marketing campaign to date to accompany a shift in its retail strategy. Seeking a broader consumer base, its vying for shelf space at large national grocery retailers.

After five years in health food stores, its Alive multivitamins are moving beyond the niche media buys and POP materials in local shops to go mass. It's reformulated the product to better suit the FDM channel (food, drug and mass), according to Gillian Aiken, the company's VP marketing. "We're at Walmart, Loblaw and Shoppers [Drug Mart] as opposed to Noah's or local health food stores."

Supplements and multivitamins are a large market in Canada, pegged at $1.4 billion dollars annually. A 2010 Ipsos-Reid poll found that that 73% of Canadians regularly take natural health products such as vitamins and supplements.

Aiken joined Nature's way in January 2015 with 15 years of product and marketing experience from Campbell Soup Company and Nestle's health science division. The company created her role to help build mass-market appeal for its product lines, which aside from Alive, includes herbs, probiotics and fish oils. "We thought digital was our way in, but it's expanded beyond digital to mass communications," she says.

"The health food channels have growth, but it's not huge growth. And the large retailers themselves are expanding in that direction," Aiken says. "Walmart is asking for more, Loblaw and Shoppers are expanding their offerings from a supplement perspective. Food is flat, and consumers are more interested in nutrition and proactively managing their health."

Alive is only one of the products Nature's Way is pushing into the mass market. Earlier this year, the company released OmegaSea, a variation on an pre-existing, high-concentrate fish oil product called NutraSea that had been premium priced on health food shelves. The company conducted research that suggested there was a large and untapped consumer group that "don't know enough to want the potency we were offering and aren't willing to pay the price for it," Aiken says. With a drop in potency and price, OmegaSea is now on-shelf at Shoppers Drug Mart.