Rogers and Mojio partner on connected car service
Smart Drive will allow customers to bring connected capabilities and diagnostics to almost any vehicle.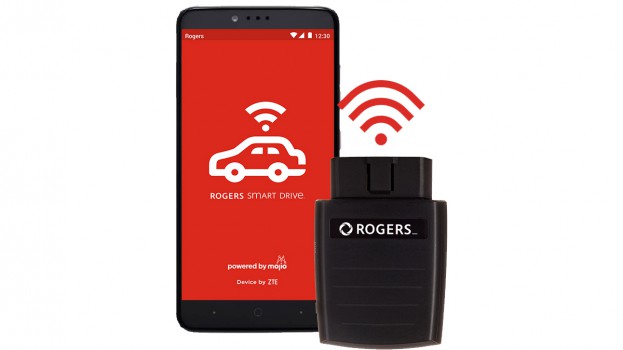 Rogers has partnered with Mojio on a new service that allows customers to turn nearly any vehicle into a connected car.

Through the Smart Drive app, customers can turn the vehicle into a WiFi hotspot for other devices, and get access to various data-tracking tools. For example, the service tracks a vehicle's location and trip data, allowing users to set speed alerts for when a family member is driving, receive vehicle diagnostics and maintenance reminders, and get alerts when something appears to have happened to the vehicle while it is parked.

The data is collected by the Smart Drive hardware, which plugs in to a car's OBD-II port. That is the same port used for emissions tests and is present on most vehicles made after 1996.

Customers must purchase the hardware for a one-time cost of $99 on a two-year term, and can subscribe to the service with an additional $15 monthly charge on their existing "Share Everything" mobile plan.

Smart Drive is powered by Vancouver-based Mojio and its open connected car platform. Mojio has previously worked on connected car solutions with T-Mobile in the U.S. on its SyncUP Drive app. T-Mobile's parent company Deutsche Telekom also led the start-up's Series A round of funding.

Mojio previously worked with Telus to first bring its device to market on the telco's network in late 2014. Those devices were available on a stand-alone basis, and did not require an existing Telus wireless plan. In an email, Mojio head of marketing Kyle MacDonald explained that in late 2015, the company pivoted from selling its devices direct to consumer to instead providing wireless carriers with their own connected car solutions.

"There was a clear demand from carriers to drive incremental revenue through IoT devices, including the connected home and also the connected car," MacDonald said. "The latter was vastly under-serviced by carriers on a global basis and we recognized that we had developed all of the elements – the platform, mobile apps and certified hardware – to help carriers rapidly deploy, manage and grow a branded connected car service"

While the first generation devices are still being serviced through Telus, Mojio is planning to "sunset" the devices within "a reasonable timeframe." MacDonald adds that Mojio is currently pursing partnerships with other wireless carriers, and hopes to have some of those options available to the company's early adopters once support for their current devices ends.