SunRype brews up more products
The B.C. brand adds more adult-focused drinks to its portfolio.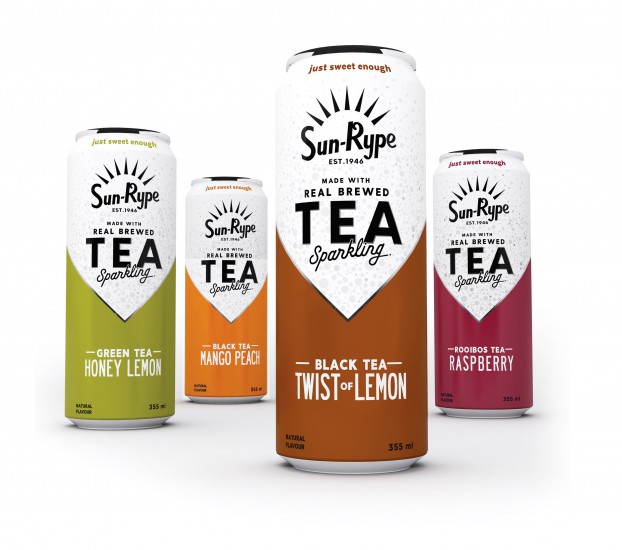 SunRype is continuing to expand its portfolio, launching a new line of sparkling teas.

The move comes not long after the Kelowna, B.C.-based company debuted its hard cider. Like that launch, the new SunRype Sparkling Teas represent a continuation of its innovation strategy.

"We remain highly committed to our juice business and innovation within that category," Barb Grant, director of marketing at SunRype, told strategy via email. "However, we also recognize the importance of building out into other usage occasions and sections of the store with on-trends products like teas for the refreshment beverage section."

The brand is targeting adults with a mindset for health. Consumer research revealed a high interest and purchase intent for the sparkling tea line, Grant said. Tea and sparkling beverages are both proving popular categories, so it made sense to bring them together, she said. What's more, consumers are looking for healthy beverage options in single serve formats.

Like the hard cider, the sparkling teas (marketed under "Real. Brewed. Refreshing") have a retro design with a natural colour palette – a nod to the product's simplicity, but also used to differentiate it from other SunRype juice products.

To drive trial, the brand is using demos and coupons in-store and cross-promoting the new teas with other SunRype products. Pre-packs are also on display to drive awareness.

Beyond of store, SunRype has launched out-of-home and radio ads for the sparkling tea line, along with a digital campaign using geo and weather-targeting. Wasserman + Partners led the campaign.

The brand also worked with The Film Factory in Kelowna to create an online video that's running as pre-roll to show the product in the context of its Okanagan home.