Daily Bread brings out Santa for the summer
Saint Nick delivers a surprising but sobering message for the food bank.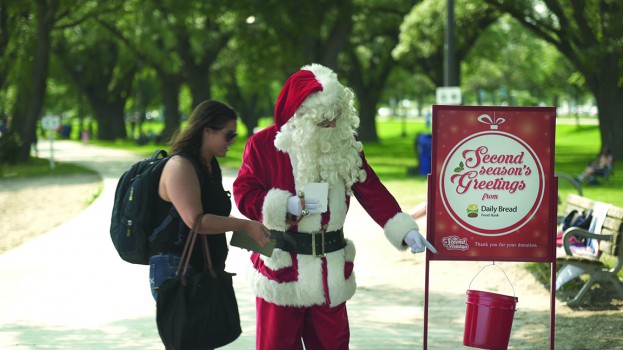 Daily Bread Food Bank brought a symbol of the holidays to the summer in the hopes that Torontonians' charitable spirit would come along with it.

On a sunny day earlier this summer, comedian Ryan Dillon took to the streets of Toronto dressed as Santa. Now, a PSA capturing the moment has launched, showing how excited people of all ages are to see him in the summer as he collects donations and hands out a list of Daily Bread's most-needed items.

The video takes a turn from the jolly to show why a "Second Holiday Season" would be so vital to an organization like Daily Bread when the perspective shifts to a regular volunteer who is not getting nearly the same attention as he attempts to collect donations.

The PSA ends with the sobering statistic that food donations to Daily Bread drop by 50% in the summer months – when the need is at its highest – compared to December, while cash donations drop by 60%.

The "Second Holiday Season" campaign is meant to drive awareness for the fact that donations are still important in the summer months when, as Daily Bread Food Bank executive director Gail Nyberg points out, children are out of school breakfast and lunch programs. It's also meant to extend "the spirit of giving" into the summer months, when charitable giving isn't on the minds of most people and businesses are less inclined to run food drives and similar programs.

Daily Bread worked with Taxi on the campaign.