J.P. Wiser's shifts its focus to craftsmanship
A new campaign and tagline for the whisky brand aims to hit on a consumer trend with mass appeal.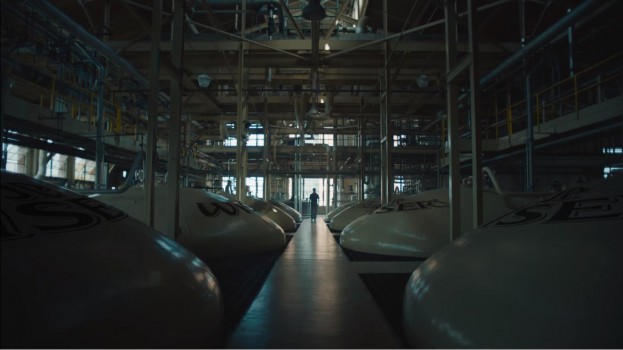 J.P. Wiser's has launched a new campaign centred on the craft that goes into making every bottle of its whisky.
Filmed at the brand's facility in Windsor, Ontario and featuring only the employees who work there, the spot highlights each person that has a hand in making a bottle of J.P. Wiser's and the work they put into it. The ad covers the entire process, from selecting the ingredients to distilling to testing to bottling, before eventually being enjoyed on a patio.
"The spot is about celebrating the choices our people make every single day to create our whisky," says Keeshan Selvakumar, senior brand manager for whisky at Wiser's parent company Corby Spirit and Wine. "On a given day shift, there are 160 people directly or indirectly playing a role in creating our product. It's about celebrating that time, care and pride that goes into every bottle."
Created by recently-named AOR No Fixed Address, the spot debuted during last night's NFL broadcast and will continue to run during hockey and specialty programming. The broader campaign will feature out of home in Alberta and Ontario, digital, social, LCBO takeovers and an influencer event in October that will also celebrate the brand's birthday. Media Experts handled media strategy on the campaign, with Gravity on social and digital and Hill + Knowlton on PR.
"Hold It High" is a new tagline for the brand. Last year, J.P. Wiser's launched the "Tastes Like Whisky" campaign created by John St. that focused on simplicity and not being pretentious, somewhat spoofing the lengths some brands will go to in order to show off their craftsmanship. Selvakumar says the brand was looking for a fresh approach in order to answer the changes it has been seeing in the whisky category – people are entering the category younger, with more women participating – and "Hold It High" hits a consumer trend that has mass appeal.
"Rather than talk about what we're not, we wanted to talk about what we are," Selvakumar says. "More and more, people want transparency around how things are made. They want to know they are buying a quality product and know why it is a quality product. That is the trend is in terms of what consumers are seeking."
While Wiser's has been investing more in the premium whisky space, "Hold It High" is meant to be a masterbrand platform across its portfolio, and there currently aren't any plans to use it to spotlight any particular product. "This is one of the first times we have gone to this length to tell the story about how our whisky is made," Selvakumar says. "The same care and diligence goes into all our products, so even though the payoff shot of the spout has the Deluxe whisky, that same level of care is in all our products. That's really the story we want to tell, and will be telling for the next little while."