FCB expands its ranks
Senior creatives from Leo Burnett and Juniper Park lead a pack of recent hires in response to recent AOR wins.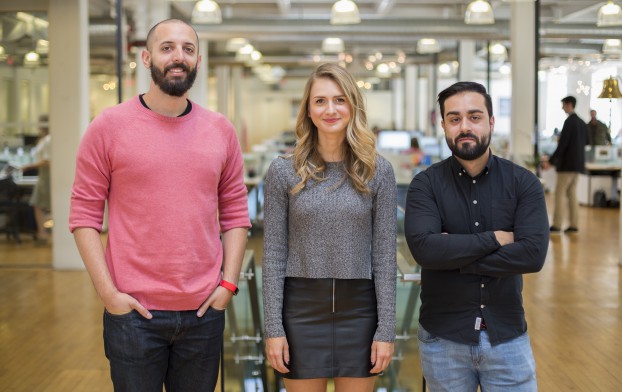 FCB Toronto's new creative hires, from left to right: Marty Hoefkes, Elma Karabegovic and Michael Morelli.

FCB Toronto has made a number of new additions to its creative, account services and production teams following a pair of recent AOR assignments.

Leading the new additions is the creative team of senior art director Michael Morelli and senior copywriter Marty Hoefkes. The pair were most recently a creative team at Leo Burnett Toronto, where they worked on campaigns for clients including TD and IKEA. Hoefkes also worked on the agency's "Printed By Somerset" campaign, award-winning work that earned him the top copywriter spot on this year's Creative Report Card.

Also joining the creative team is senior art director Elma Karabegovic. Karabegovic started her career at what was then known as DraftFCB as an intern before joining full time as an art director until 2012. She then left for the U.K., where she contributed to work for agencies including M&C Saatchi, Publicis London and Holler.

She returned to Canada in 2014 when she joined the creative team at Juniper Park\TBWA, where she worked on campaigns including GoDaddy's "Itty Bitty Ballers" and Project Consent's "Consent Is Simple." During her first stint at FCB, Karabegovic worked on the award-winning "Stories" campaign for PFLAG.

The new additions at FCB are in response to recent business wins, namely AOR assignments for BMW Canada and Fountain Tire.

Over the last month, FCB has also made a number of additions to its client services team, many of whom have experience relevant to the agency's newest clients. Leading them is group account director John Pace, who has previously been at Ogilvy and Sandbox (Fountain Tire's previous AOR).

Other additions to the team include account directors Blake Connolly (from BBDO, where he worked on Mercedes Benz), Shane Holmes (from Grip, where he worked on Honda and Acura) and Dave Ashley (who joins from McCann New York). Rounding out the hires are account supervisor Alex Pente (joining from Leo Burnett Toronto) and account executive Alex Kreinces (joining from FCB's New York office).

In June, Scott Drucker joined FCB's production department as director of photography. At FCB, Drucker will help the agency "offer clients an exclusive, all-in-one production service" that including direction, filming and editing. He has previously work on content for Vice, Hulu, ESPN, VH1 and Crackle.

In addition to its recent business wins, FCB has recently named new managing directions in its Toronto office and a new president in Montreal.