CIBC, then and now
150 years of tinkering with strategy and brand identity have helped the bank with first-mover ambitions fit into consumers' lives.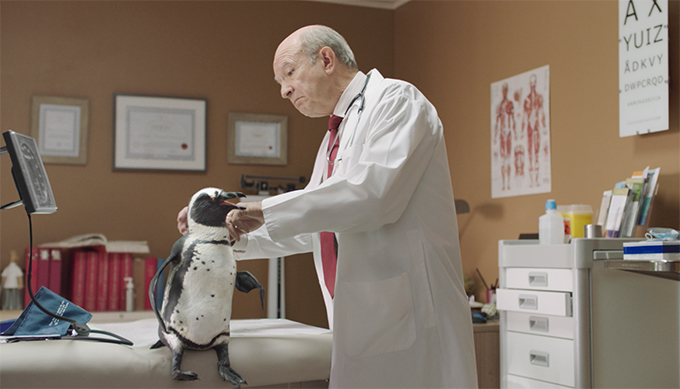 This article appears in the October 2017 issue of strategy.
The ink was still drying on the document signed by the Fathers of Confederation when the Canadian Bank of Commerce's own founding father was breaking ground. Blueprints for its first branch in Toronto had been drawn up just six weeks before the country's union took place.
Nearly 100 years later, the bank would merge with the Imperial Bank of Canada (founded in 1875) to form the Canadian Imperial Bank of Commerce, now better known as CIBC.
"When you have a 150-year-old brand, and you look at the world through the eyes of that brand, you actually see 150 years of life in Canada," says Rob Assimakopoulos, SVP and CMO at the bank. CIBC's advertising through the decades shows "the mentality around saving, investing, managing money, and how they change… There's a reflection of the Canadian mindset."
The 1950s saw a "very modest sales-oriented mindset," says Assimakopoulos, with many of CIBC's ads focusing on saving and investing, showing people building homes, starting companies and doing things they love, like fishing. The '60s and '70s saw the "world open up a bit" and ads were more geared toward spending, with the advent of consumer credit.
The '80s and '90s were about appealing to the "fairly self-indulgent generation of baby boomers" with an even bigger proliferation of consumer credit and spending. And the early 2000s were about better financial management, catering to a more self-sufficient, savvy banking crowd.
Today, CIBC's advertising spans all of that, speaking to Canadians' desire to save and invest in a post-recession economy while showing them the ease with which they can spend, thanks to new technologies and innovation that has taken banking into homes.
As the smallest of Canada's Big Five banks in terms of revenue, and therefore working with a smaller budget, CIBC has to work harder to get noticed. To understand its approach, it's useful to look at the parallels with its 150-year history.
Finding its (customers') voice
Pencil drawings, cartoons, graphics, stock photography of happy people smiling, hugging, laughing: CIBC tried it all, and that was just the '60s. The bank was admittedly indecisive in the visual presentation of its brand. For example, no-frill sketches in ads communicating personal loan services in the '70s contrast sharply with stock images of farmers planning for their future in other ads from the same era.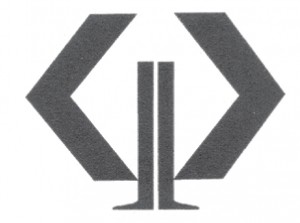 CIBC also lacked visual consistency within its branch walls. Before the bank's former director of brand strategy, Mary Newman, and her team were tasked to come up with a refreshed brand identity in the late '90s, "there were places where it still said the long words 'Canadian Imperial Bank of Commerce.' There were places where it said 'Bank of Commerce.' There were even places where it said 'Imperial Bank,'" she says. "Nobody had gone through top to bottom, and refreshed the identity and made it uniform. The most prominent identity was not even a logo, it was literally just CIBC written in Palatino type."
Newman, who spent 12 years working between CIBC's insurance and marketing departments, remembers the logo that was created in the '60s and used up until that point. It was modern at the time, containing a chevron to represent the bank's coast-to-coast coverage and two little feet at the bottom to communicate stability.
"But it was very outdated [in the 1990s] and still kind of kicking around in places," she says.
TD purchased Canada Trust in 2000 and was introducing a distinctive brand architecture for the newly merged bank. CIBC needed to create an identity and naming system that would stand out against its competitors: something that would "incorporate what we envisioned doing in the future… that would carry the bank into the next few decades," Newman says. "Because refreshes are not something you want to do all the time."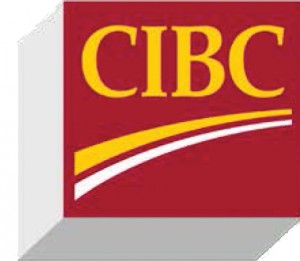 Her team hired Ove and Publicis to work on the integrated assignment, with the design shop exploring different identities based on research that showed consumers responding positively to symbols of "growth, progress, optimism and a forward-looking future," she says. In the early 2000s, CIBC landed on an iteration of the logo that's currently in use, with two arcs below the brand's lettering. The idea of growth, present throughout CIBC's marketing history, "was one the key themes we wanted to build into the identity of the bank."
Another decade would pass before CIBC took an even deeper look at its brand. When the bank moved creative strategy over to Juniper Park\TBWA in 2012, the challenge was one it had battled before: the "sea of sameness" in the undifferentiated banking category, says Assimakopoulos.
"In early times, to get out of the sea, when we advertised, we tried not to overstate the care and attention we put into clients' money, and discouraged things like disparaging competitive comparisons," he says.
"Fast forward to 2017 – where we make use of a penguin that's distinctive – we're trying to solve a similar problem that we had back in the early 1900s."
Percy the Penguin is the first mascot for CIBC, born out of the brand's Aventura loyalty program in 2013. What began as an exponent of the rewards program (which differentiates itself with a personal concierge service), the penguin has since expanded to become a regular sighting in the bank's mass marketing. He's "warm, likeable," explains JP\TBWA's CEO Jill Nykoliation. Percy is a kind of "proxy for the consumer," adds CSO Mark Tomblin.
That's in contrast to Arby, the Royal Bank mascot, and TD's green chair, which represent those banks, Nykoliation says. "Percy is the consumer, which is why people have a strong affection for him."
That connection stems from the bank's renewed customer-centric focus, she says. As a result, CIBC has made the mascot a more pervasive character in its campaigns and "Banking that fits your life" platform.
The company is also learning from the past's inconsistent branding, adopting a style of illustration that's distinctively CIBC and threading it across multiple platforms. Many of its ads now have the same creative treatment, from "how to" videos that explain features in its app to the print ads that talk about its mortgage advisors who visit clients' homes.
"They own this now," says Nykoliation of the bank's new animations.
The drawings give it licence to be metaphorical, with the penguin doing impractical things like sitting in a tub full of money (to show how CIBC can help you become a saver). "Other banks cannot follow this," she says. "The four of them mostly use photography, and we stand alone with sophisticated illustration."
There are exceptions, of course. For example, its "financial portrait" campaign uses real footage to portray the bank's intimate and personal relationship with investment clients. In May, a video of artist Jen Mann interviewing and painting a portrait of Monika Deol, a former TV host and founder of Stella cosmetics, showed how "artists capture the real you," just like the bank.
"It creates a powerful metaphor for what our Private Wealth management professionals do," says Assimakopoulos. "The idea that they don't just create financial plans, that they create portraits, shows prospective clients what our current clients get in that relationship."
Assimakopoulos says consumers are noticing the brand now, thanks to Percy and CIBC's more distinctive messaging. He wouldn't disclose numbers, but notes that the brand has "closed the gap" in brand attributes like being client-centric and personalized.
"You have to work hard as a customer to be able to notice one bank over another. Everyone seems to talk in transactional terms," he says. "We are spinning more of our efforts to show how we deliver, versus just what we deliver."
First in, best dressed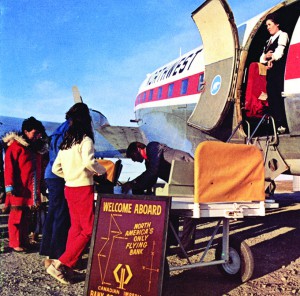 CIBC's boat from the 1960s floated along the St. Lawrence River and docked to serve communities en route. Its equally peculiar "mobile banking" counterpart, a jet, would fly to seven cities within the inclement Northwest Territories in the '70s. And in 2017, a "ski-thru" ATM appeared on top of a Whistler ski run.
This is how CIBC likes to innovate. Its inventive ways to do banking helped the brand fit consumers' lives, no matter how remote.
But it didn't stop there. It was also the first to serve communities in Yellowknife (1938), to bring ATMs to Canada (1969), to set up an automated telephone service (1992), and even to use PCs in branches (1996).
"CIBC has a reputation for firsts. There was an expectation that we would always try to be first in market, be better, be best," says Newman. "I think it goes all the way back to when the bank first started, when land and gold was still being discovered. It was one of the first to have branches on the river when there were no roads. It had branches in the Yukon to support the miners. They would even put branches on rail cars. It's just part of the brand's DNA."
CIBC's penchant to pioneer "convenient" innovations has carried forward into the tech-crazed present, with the bank claiming to be the first to offer mobile banking via an iPhone app (2010) and the smartwatch (2015). Today, it's exploring new technologies like Samsung Pay, being one of the first banks with a presence in the app.
Much like its competitors (from the Big Five to new entrants), Assimakopoulos says CIBC is developing mobile innovation to make consumer journeys more seamless.
As an example, he points to the bank's new Hello Home mortgage app, launched last year, which does away with human interaction and lets customers apply for a loan by phone (the approval process time is the same, but it eliminates having to visit a bank branch and fill out paperwork).
"Let's not just innovate according to their expectations, let's see if we can exceed those expectations," he says of his team's mindset when exploring new business areas and platforms. "Innovation is the core tenet that we wanted to install."
While it may have looked internally for first-to-market innovations in the past, the bank now puts its trust in the MARS-housed CIBC Live Labs when developing new digital banking services. Every six weeks, a dedicated team works on new projects "that help advance the future experience for our CIBC clients," according to the hub.
That's where the bank first tested its app for wearables, like the smartwatch, and it's also where CIBC is experimenting with voice banking inside cars.
It's also working with Alternative Solutions in other areas, creating capabilities such as electronic delivery of money to 90 countries with no fees.
To reflect virtual banking in homes (and cars), CIBC is also innovating inside its branches to meet the potential new world of human-less banking. It's slowly removing queues and tellers in some of its branches, creating a lounge-like atmosphere that's more personal, with only a few staff members at the door and at counters where people can bank using digital kiosks.
"You look at other businesses and you think, 'Oh, that's a delicious chocolate bar' and 'Oh, that's a fast car.' But with something like banking, some people don't think it's that interesting," says Assimakopoulos, who was once the marketing lead at Molson, before moving to General Motors. "But this has been one of the most engaging and energizing jobs I've ever been in. Particularly today, at the intersection of technology and how we can transform the banking experience."
Did you know?
CIBC bankers would travel incognito when visiting Canada's frontier towns in the late 1800s, protecting their identity from rival bankers as they raced for space. A few decades later, the bank would stand out in the fiercely competitive space of Canada's booming cities by constructing 70 "prefabricated" branches that stood two storeys high. It took only two days to assemble the innovative buildings, and some still stand today.
They wrote them on eggs, cabbies' dirty shirts, boat oars, footballs, even a 50-pound slab of elm – CIBC customers were never short of ideas on what to use as makeshift cheques over the years. As long as the client's bank details, account information, signature and amount was correct, the bank would accept these creative tokens as ways to transfer money between accounts if they didn't have an official cheque at the time.
Back in the early 1900s, the bank used its buildings as "indirect" advertising, while giveaways of calendars, maps and pamphlets were thought of as "direct." But the most popular advertising item of the time was a little book called a Memoranda. One hundred years ago, Canada was still very rural, so the book contained practical information (how to mix paint, sell cattle, etc.). It was given to those with good standing in the community, speaking to a client's status.