Pulling back the curtains on domestic violence
The Assaulted Women's Helpline drives awareness for an issue that's usually outside of the public eye.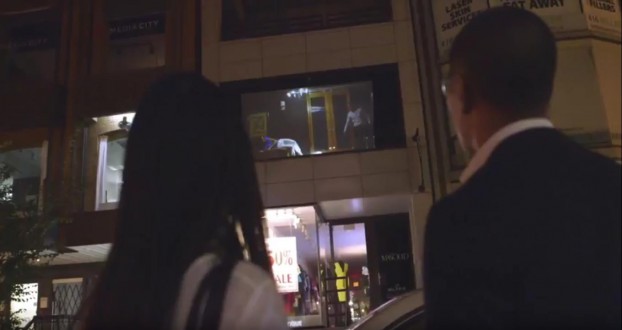 Domestic violence tends to happen behind closed doors, but The Assaulted Women's Helpline isn't letting that stop it from showing the public how terrible it is.
In the affluent Yorkville neighbourhood in downtown Toronto, agency Giants & Gentlemen set up a projector screen on the side of the building – one that was roughly the height of a condo window. Pedestrians on the street below watched as video played showing a scene of domestic violence between a couple in their home. As the man walks out of the room, the video ends with a message about everyone's role in helping to stop domestic violence: "if you could see it, would you ignore it?"
A video capturing reactions is now being pushed through social channels to get the conversation about domestic violence doing around the hashtag "#DontIgnoreItAWHL."
The stunt was meant to drive awareness about the issue of domestic violence and the AWHL in particular, which is gearing up for a larger promotion of the various services it offers during Woman Abuse Prevention Month in November.
Part of the goal of the campaign was to shift the notion that domestic violence only happens among certain societal groups. AWHL was also looking to raise awareness for the fact that most instances of domestic violence happen away from the eyes of the public, making it easier for the general public to not see its impact and driving home the need for resources victims can take advantage of.
"Every six days we lose one woman to violence in the home," Huong Pham, executive director of AWHL, said in a press release. "It is important to remind people that violence against women is still on the rise and something that typically happens to the ones we love, behind closed doors."