What sets RBC's UX design apart?
Expert analysis helps to explain why not all banking apps are created equal.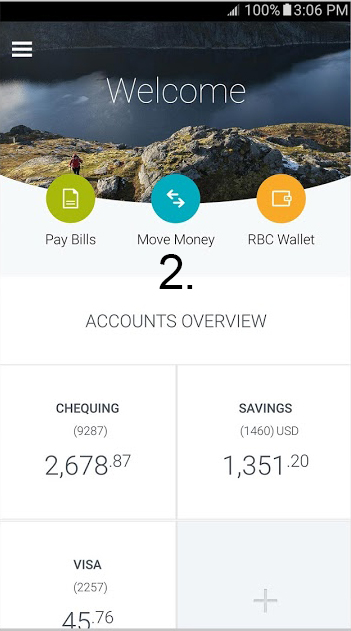 There's reason to believe RBC is ahead of other banks in the mobile game after redesigning its app last year. Its mobile experience won J.D. Power's award for the highest customer satisfaction rate for 2017 and was the only established financial brand recognized at the first Mobile UX Awards.
To get a few key takeaways about what makes for a solid user experience, Strategy spoke with Peter Tilton, SVP of digital at RBC, about the thought process behind the bank's design decisions. We also talked to Eiko Kawano, VP of experience design at Tribal Worldwide Canada, about how those UX elements create a better experience for customers as they manage their money.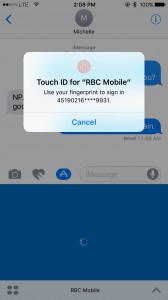 Using biometric TouchID allows users to sign in with a single touch, be it through the app itself or one that uses its features, like iMessage.
Tilton: There's a natural customer concern around security and protecting your funds. So we're not just using the Apple patent, but tying it back into our own security systems so we have two levels of authentication. Those aren't the sorts of things consumers think about every day, but they definitely expect a gold standard in security from a bank.
Kawano: This is the game changer because logging into a banking app can be really annoying. The fact that I can log in with a fingerprint is pretty exciting and removes a lot of friction from what is usually a friction-filled experience.
The interface is simplified, with a focus on the most popular tasks and information
Tilton: Five or six things make up 90% of customer transactions. That's why most banking apps look similar, because those things are so important. In the current app, we've resolved those high frequency things in a way that is delightfully simple.
Kawano: In the early digital days, banks didn't seem to realize how personal money can be, and this is one of the first banking apps I've seen that feels like it recognizes that. It also comes down to the minimum amount of information you need to show the user in mobile, where there's not a lot of room before things feel crowded. It sounds obvious, but it can be hard to do in practice.
RBC is the only bank in Canada to offer eTransfers and bill payments through Siri, as well as eTransfers through iMessage.
Kawano: One opportunity is to bring the more buried features up to the user. Because to find and set up Siri and iMessage transfers, I'm at least two clicks away. Developers have to make tough choices in terms of what gets on a landing screen, a lot of which are governed by what users say they would do. But if you ask a user if they want an alert every time their account is at a low balance, most will say no, even though it can be super useful. So there's a chance to educate customers more about how some of these really heroic features that set the app apart can be utilized.
Authenticated chat and calls use AI and biometric voice recognition to connect users to human staff when they have a question or issue.
Tilton: This might not sound critical, but for over 100 years, when you've contacted a bank, you've got to go through confirming who you are and finding the right person to handle your request. Now the app instantly connects you to the right person, and they'll already know who you are and what your problem is. That removes a huge pain point.
Kawano: Anything that brings the experience to the user where they are is very powerful. Another example is RBC Rewards, which is in a separate app and can be annoying. But you log in to the banking app easily with Touch ID, which then bumps you right to Rewards without having to log in again. That's huge.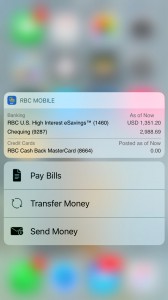 A widget allows users to get information about their accounts at a glance, as well as set favourite actions without opening the app.
Kawano: It has taken a long time to get to the realization that a lot of banking happens on the go and sometimes people just need to do something in a moment.
Tilton: The direction we're going is more into the operating system. It saves the friction of having to open the app for quick tasks and gives user glance-ability for day-to-day information. We're increasingly seeing consumers move that way, where it becomes part of a daily digital routine that they check just as frequently as they would the weather.