Spokes takes a healthy approach to brand building
Why not compromising on brand is important to help the new product stand out in the "better-for-you" snack category.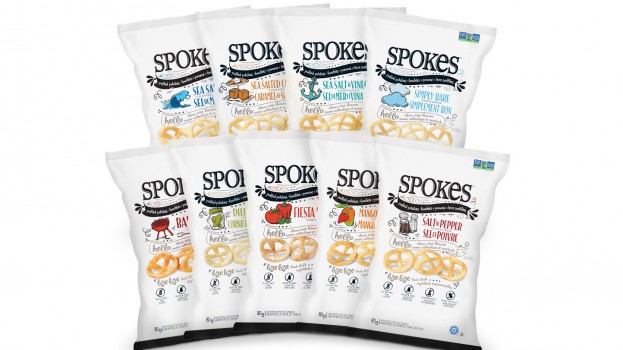 Spokes, a new potato snack re-launched earlier this month by Left Field Foods, has nine different flavours. All are free from 11 major food allergens (such as dairy, gluten, wheat, soy and eggs), certified by the Non-GMO Project, have no trans fats, artificial ingredients or cholesterol and contain only 40 calories per cup.

All of those things are important among consumers looking for healthier snack options. But Dave Pullar, CEO of Left Field Foods, says those things have almost become table stakes within the "better for you" snack category.

"That's where the brand comes in," he says. "Given we had this product that answered all those needs, we felt this would be the perfect time to introduce a product to the consumer, but also to get its brand right from the ground up."

Spokes have actually existed for nearly 20 years, created by a Canadian mom who wanted to make a healthier snack for her family and whose manufacturing processes are still used to make the product. But the snack never really took off in the marketplace, until food and agriculture investor Avrio Capital took an interest in the product roughly two years ago.

Around then was when Left Field took control of the product, and the company embarked on an extensive research period, which include quantitative research, qualitative research, in-store surveillance of the category and shop-alongs and in-store visits with its millennial mom target consumer.

While the research confirmed many things the company already knew when it came to the product attributes, a number of things came out that all came back to the importance of brand to win in what is an increasingly competitive and in-demand category. For example, the cliché of health food packaging featuring plants and hemp and wood-grain designs that beats consumers over the head with healthy attributes wasn't necessary, as consumers expect those things from products, especially ones found in a health or natural food aisle.

Another thing that surprised Pullar was the fact that consumers have a high emotional engagement with their snack choices, seeing them as part of their lifestyle.

"That was the benefit of building this brand from the ground up," Pullar says. "Early on, we had a pre-conceived notion of what the brand might look like, but a lot of things came up that surprised us. Our consumer really created this brand. It's the rare occasion where we had the opportunity to really focus on her and where the market was going and how to get it right from the start."

Pullar describes the brand approach as "no compromise," delivering packaging that speaks to consumers in the store, looks good on the counter at home and has the healthy options they are seeking out for their family. It also applies to the one thing that remains the most important factor in consumer snack choices: taste.

"Consumers expect a compromise and having to give up taste because of these kinds of products attributes," Pullar says. "When she has that on the shelf and picks it up, we've delivered that 'no compromise' approach through package design. When she gets it home or tastes it through a sample, we always get that wow on taste. Then she flips it over and reads the ingredients and the nutritional profile, and we see a lot of nodding heads. That says to us, it's inclusive. She's has this realization that there's a snack that tastes good and doesn't compromise."

The launch campaign for Spokes is relying heavily on social, where the target customer for Spokes is highly active. There will be some in-store experiential demonstrations and sampling, but Pullar says the company is focusing more on new platforms that can drive trial, such as Social Nature, which gets products in the hands of micro-influencers that then review and promote the products to their own networks.

"We know we win on taste, so trial is really important," Pullar says. "But in store, you're not necessarily in front of your target audience, and delivering a brand message through that isn't always as powerful. Having a consumer really get the product means finding new ways to get the bag in their hand and tasting the product."

Left Field worked with Anthem Worldwide on the development of the Spokes brand and its packaging design, as well as Winnipeg communication firm Direct Focus and DV Communications on the marketing campaign. Spokes are available at a range of stores, including Whole Foods, Kardish, Goodness Me!, Planet Organic, Blush Lane, Safeway, Sobeys, Thrifty Foods, Metro, London Drugs and Bed Bath & Beyond.