Manulife uses Apple Watch to woo customers
The company adds the allure of an in-demand wearable to its health-focused Vitality insurance program.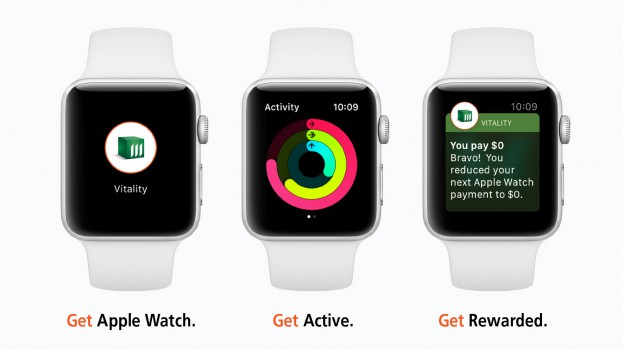 Manulife is hoping the promise of a free Apple Watch will get people more interested in joining its health-focused Vitality program.
As part of the Active Rewards with Apple Watch program, any Canadian clients currently enrolled in Manulife's Vitality program can purchase an Apple Watch at a deeply discounted rate for the Series 1 ($17) or recently-released Series 3 ($39) versions of the wearable. From there, they can pay off the remainder of the cost in monthly instalments, but those costs can be greatly reduced or even eliminated if the user accumulates certain amounts of points by completing their fitness goals (though the company notes that payments may vary based on age, amount of coverage, underwriting status and term period selected).
Manulife introduced the Vitality program to Canadians last year, allowing customers to earn rewards points and receive discounts on their premiums by meeting certain personalized goals that help them live a healthier life, primarily when it comes to physical activity. Customers could track their fitness manually, or have it done automatically through the use of a wearable fitness tracker – such as an Apple Watch or FitBit – they already owned.
At its launch, new Vitality members who did not already own a fitness tracker could receive a voucher for a Garmin vivofit3, but the new program gives members a chance at a potentially more attractive device. Over the summer, Apple CEO Tim Cook said sales of the company's wearable have doubled over the last year and that it now sold more watches globally than Rolex. And these figures were before the release of the new Apple Watch Series 3, which became available last month.
The Apple Watch integration is based on similar program that Manulife's U.S. division, John Hancock, launched last year. Initially only available to certain policyholders, John Hancock has now expanded its program to those with lower-cost term life insurance policies.
In a press release, Tal Gilbert, CEO of Vitality Group USA, described the data from the U.S. version of the Apple Watch program as "encouraging," noting that it not only resulted in the number of active days among members increasing by 40%, but that the improvements tend to be sustained over time and have been the biggest among at-risk populations.