No Yolks noodles are pretty easy
The brand uses a bit of silliness to allude to its convenient nature and attract younger buyers.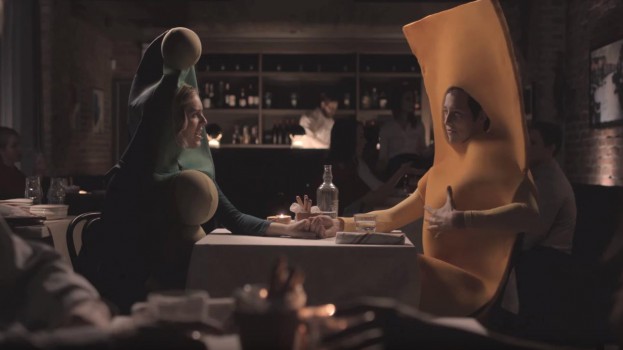 No Yolks has long traded on its health benefits, but a new campaign shifts focus to the cholesterol-free product's convenience.

Created by Toronto agency Elemental, a video leading the campaign shows a man in a giant noodle costume on a date with a pod of peas. But dinner gets interrupted by all the other foods the No Yolk noodle has mixed it up with lately, confronting him for apparently ghosting them after their last encounter. The message behind the entendre-filled scene is that No Yolks noodles are easy and can go with anything.

No Yolks' primary consumer tends to be over 40 because of the no-cholesterol product's health benefits, growing by double digits year-over-year with the segment. To expand its reach with younger consumers, the new campaign turns the focus to convenience instead, spotlighting all the different combinations No Yolks offers for easy meal options.

"Many college students and young professionals don't have the time to cook, but still want a great-tasting meal," Alistair Senn, senior brand manager for No Yolks, said in a press release. "Our message is that No Yolks noodles are simple and fail-proof to make, go with just about any ingredient and they happen to be healthy to boot."

The broader campaign features social posts under the "#BringHomeNoYolks" hashtag. The company will also be sharing recipe content – starting with One Pot Cheesy Taco Noodles and Asian Fried Noodles – to give customers meal inspiration and show off all the potential meal combinations.