Dainty unveils new packaging
In addition to new anniversary-themed packaging, the brand is working with a chef to position rice as an everyday food.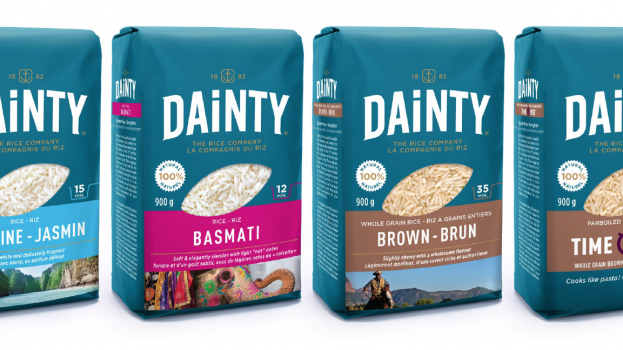 To coincide with its 135th anniversary, Montreal-based rice brand Dainty Foods has unveiled a new line of packaging for its dry rice products.

After 135 years in the business, it was time to refresh the brand, says Nikola Reford, Dainty's marketing manager. The anniversary is not one that is typically celebrated, but it nevertheless offered a good opportunity to revitalize Dainty's look and feel, she says.

Packaging in the rice category is dominated by the colour orange and conventional pillow-bag packaging, which Dainty previously used. Reford says the company wanted to distinguish itself on the supermarket shelf, so it decided to package the rice in block-bottom bags, which are frequently found in Europe and more commonly used for coffee and pasta products.

The brand also chose to highlight its different rice varieties through colour navigation bands and photos that evoke the origins of the type of rice in each package. The packages describe the type of rice – be it Basmati, long-grain, jasmine or others – and the aromas and flavours to expect from each. The information is intended to guide customers in making their choice and is part of Dainty's goal to help consumers feel more comfortable cooking with the product.

Dainty worked with Pigeon, a design and communication agency in Montreal, on the packaging redesign. It has also teamed up with chef Jonathan Cheung, owner of Quebec cookbook store Appetite for Books, to try and position rice as an everyday food. Cheung has been creating recipes that are being shared on Dainty's social media platforms and website, as well as at tradeshow cooking demos and samplings.

In December, Dainty will highlight the white long-grain rice it has been milling since the company was founded in a campaign running on Facebook and Instagram and will be accompanied by special recipes.

Dainty offers the largest variety of rice under a single brand in Canada. Its products are sold across Quebec, Ontario and the Maritimes and in select locations in Western Canada.