Where do consumers like shopping most?
Leger finds a few surprising retailers have a higher-ranked in-store experience than their bigger, more established competition.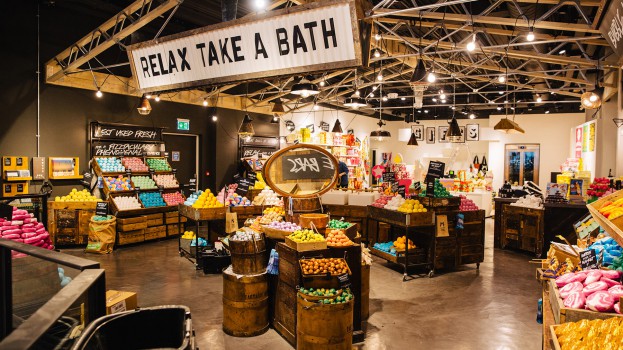 Beauty brands, apparel retailers and specialty boutiques offer the best in-store shopping experiences, according to consumers polled in Leger's latest Customer Experience Index.
Leger compiled the study by polling 20,000 Ontario residents. Each retailer included in the survey was assessed by 400 recent customers over the age of 15, with the results weighted to ensure a representative selection by gender, age and region. It polled respondents on different elements of their experience with the retailer – ranging from price and product selection to store layout, personalization options and staff service – and used those answers to calculate an index score for each retailer.
Some categories seem to have a higher standard for excellence than others. The top retailers in the specialty, pharmacy, beauty, sporting goods and apparel categories all had index scores above 80. But for the dollar store, convenience, department store, home decor and hardware categories, the top index score ranged from 73 to 51. Further, five of the top ten ranked retailers overall were in the beauty category.
In many categories, only a few points separated the top-performing retailers, though there were some notable exceptions where some brands broke away from the pack. In pharmacy, PharmaSave outpaced Shoppers Drug Mart by nearly 10 index points and Rexall by more than 18. In footwear, Naturalizer was 13 points ahead of second-ranked Call It Spring. MEC was nearly 12 points ahead of Footlocker and Golf Town in sporting goods, while Carter's OshKosh was more than 14 points ahead of The Children's Place in children's clothing.
The overall top ten, as well as the top five in each product category, can be found below alongside their score in Leger's index.
Overall
1. Lush: 94.3
2. Penningtons: 93.5
3. Kiehl's: 91.5
4. DavidsTea: 90.9
5. Addition Elle: 89.4
6. Bath & Body Works: 86.5
7. Aveda: 84.4
8. MEC: 83.8
9. Carter's/OshKosh: 83.6
10. Yves Rocher: 83.4
Beauty
1. Lush: 94.3
2. Kiehl's: 91.5
3. Bath & Body Works: 86.5
4. Aveda: 84.4
5. Yves Rocher: 83.4
Apparel
1. Penningtons: 93.5
2. Addition Elle: 89.4
3. Harry Rosen: 77.9
4. Reitmans: 75.6
5. Laura: 73.9
Specialty Boutiques
1. DavidsTea: 90.9
2. Nespresso: 83.1
3. PetSmart: 80.6
4. Chocolats Favoris: 77.8
5. Pet Valu: 74.7
Sporting Goods
1. MEC: 83.8
2. Foot Locker: 71.9
2. Golf Town: 71.9
4. The Running Room: 71.8
5. National Sports: 61.9
Children's Clothing
1. Carter's OshKosh: 83.6
2. Children's Place: 69.0
3. Gymboree: 63.5
Pharmacies
1. PharmaSave: 82.9
2. Shoppers Drug Mart: 73.1
3. Rexall: 64.7
Electronics
1. Apple: 79.8
2. Microsoft: 74.9
3. Best Buy: 68.9
4. Staples: 62.2
5. The Source: 57.9
Alcohol
1. The Wine Shop: 79.8
2. LCBO: 77.9
3. The Wine Rack: 76.3
4. The Beer Store: 62.1
Footwear
1. Naturalizer: 79.1
2. Call It Spring: 66.0
3. Shoe Company: 65.5
4. Payless: 64.3
5. Aldo: 64.1
Culture & Leisure
1. Chapters Indigo: 77.5
2. DeSerres: 73.2
3. Michaels: 66.3
Lingerie
1. Victoria's Secret: 77.2
2. La Senza: 75.7
3. La Vie en Rose: 74.5
Supermarkets
1. Longo's: 76.0
2. Farm Boy: 74.5
3. Whole Foods: 71.8
4. Fortinos: 70.1
5. RCSS: 68.1
Eyewear
1. Costco Optical: 75.6
2. Lenscrafters: 69.6
3. Hakim Optical: 69.2
4. Walmart Vision Centre: 65.2
5. New Look Eyewear: 61.4
Jewelry and Fashion Accessories
1. Tiffany & Co.: 75.0
2. Swarovski: 70.7
3. Birks: 69.3
4. Pandora: 68.2
5. Peoples: 66.0
Sportswear
1. Lululemon: 73.9
2. Adidas: 73.3
3. Nike: 66.3
4. Under Armor: 65.9
5. Reebok: 63.8
Hardware
1. Home Hardware: 73.1
2. Lowe's: 65.4
3. Home Depot: 64.2
4. Canadian Tire: 60.4
5. Rona: 52.0
Home Furniture and Decor
1. Kitchen Stuff Plus: 70.2
2. Stokes: 68.8
3. Crate & Barrel: 66.9
4. Sleep Country Canada: 65.8
5. Bowring: 63.0
Department Stores/Mass Merchandisers
1. Holt Renfrew: 70.1
2. Simons: 66.4
3. Giant Tiger: 65.4
4. Nordstrom: 63.6
5. Costco: 61.2
Convenience
1. 7 Eleven: 54.0
2. Circle K: 52.7
3. Mac's: 46.4
4. Quikie: 43.2
Dollar Store/Discount
1. Dollarama: 51.8
2. Dollar Giant/Dollar Tree: 47.3