L'Occitane unveils new digital flagship
The fragrance boutique's Toronto store is one of three design concepts that reflect the company's "glocal" retail approach.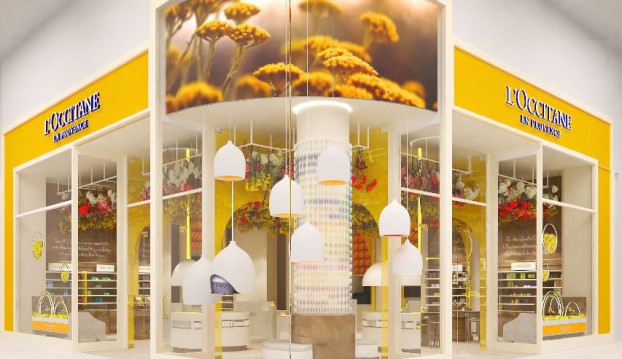 French beauty and fragrance company L'Occitane en Provence has opened a new digital-focused flagship store at Toronto's Yorkdale Shopping Centre as part of its retail strategy to enhance in-store customer experiences.
The Canadian flagship boutique is one of three L'Occitane stores that opened this week, less than a month before Christmas. The Yorkdale location is designed to deliver immersive digital experiences, while new stores in London and Paris look to enhance the brand's in-store offering in other ways.
New York-based design agency School House led on Yorkdale's concept design.
The store's exterior features a curved video wall measuring 108 square feet. Once inside, customers can interact with "capsules" that offer multi-sensory experiences developed by Patten Studio, a New York agency. They combine scents with imagery, light and sound and invite customers to learn about the company's history and scent extraction practices by virtually transporting them to the lavender and immortelle fields of Provence and Corsica.
Customers can test products beneath automated shower sinks that rain water from suspended arched domes in the store.
Yorkdale also has a strong environmental focus, something the brand has been mindful of with its flagship. In a North American first for the brand, it's offering an in-store bottle recycling program in partnership with TerraCycle, a group that specializes in recycling traditionally non-recyclable materials. In addition, parts of the store are made from or include recycled materials, such as the stone flooring and Provençal-style yellow arches.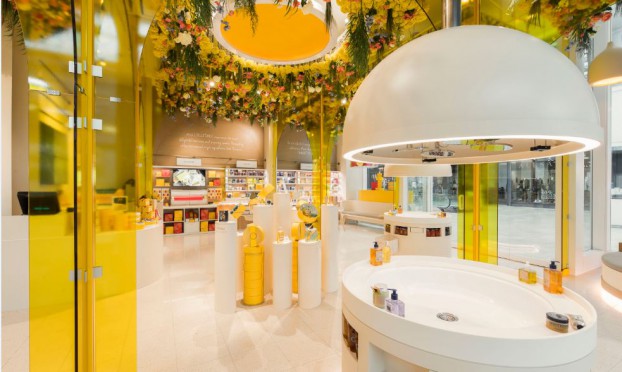 Outside of Toronto, the flagship on Regent Street, in London, emphasizes multi-sensory experiences and has a ground floor dedicated entirely to the testing of products. The one on the Champs Elysée, in Paris, was co-created by French pastry chef Pierre Hermé and designed by architect Laura Gonzalez. Its concept centres around shared expertise and "passion for the best natural ingredients," according to Paul Blackburn, VP of concept design, construction and merchandising at L'Occitane North America.

He says the differences between the stores reflect what L'Occitane calls its "glocal" approach to retail: adapting store concepts to local market preferences, while adhering to the brand's larger strategy of offering innovative and personalized services to its customers.

Yorkdale is Canada's busiest mall, drawing 18 million annual visitors, and it houses one of the country's largest collections of luxury brands, according to Blackburn. He says that alone makes it attractive to international retailers looking for an entry point into the Canadian market. Moreover, he says that Yorkdale has "a robust digital presence that far surpasses that of any other mall of its kind," and that it has a growing digital audience, including 29,000 followers on Instagram.

L'Occitane chose premium shopping locations for its flagships to reinforce its position as a global brand seeking to further grow its retail business on an international level, says Caroline Le Roch, L'Occitane North America's chief commercial officer.

In the fall, the brand rolled out a redesigned and mobile-first e-commerce site across 60 countries. Much like the new L'Occitane stores, the site is supposed to offer personalized services based on the needs of the local market.

By the end of next year, L'Occitane will open 40 new concepts stores across the U.S., Europe, Asia, Russia and the Middle East.