WestJet sees Christmas through the eyes of children
The airline enlisted young experts to create 12 "miracles" that represent their idea of holiday joy.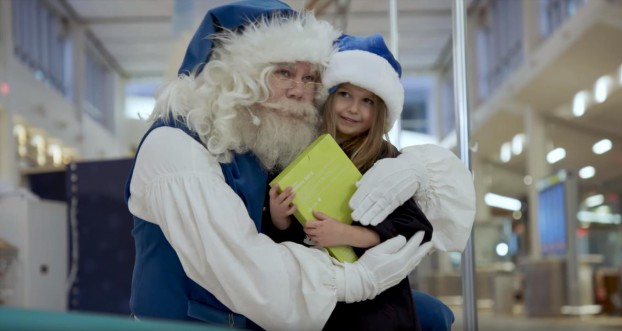 This year's edition of WestJet's "Christmas Miracle" brought holiday joy to travelers via those who make Christmas special: kids.

In November, WestJet gave its Facebook followers the opportunity to vote between two different concepts, words or phrases, with each one shaping an event and giveaway that happened at airlines and flights across Canada.

When "experiences" won over "stuff," tennis star Genie Bouchard opened a giant advent calendar at Montréal–Pierre Elliott Trudeau International Airport that gifted a free trip to people in attendance. When "inflight" won over "gate," musicians from Walk Off The Earth gave passengers a rendition of "Deck The Halls" at 40,000 feet. When "tickets" won over "toys," a performance from the Royal Winnipeg Ballet at the Winnipeg Richardson International Airport came with tickets for a future performance.

Each of the "12 Flights of Christmas" was live-streamed on Facebook for 12 consecutive days at the end of November, with experiences including a massive family dinner, the opportunity to play with 40 dogs and turning a gate into a giant gingerbread house – with appearances from personalities including Peter Mansbridge, Aaron Sanchez, Colin Mochrie and Jillian Harris.

But like past Christmas Miracles, the airline kept a surprise up its sleeve. Today, it launched a video revealing that each of the "miracles" was based on a child's idea of what Christmas should be, all of which came out of a brainstorming session with St. Alban's Boys and Girls Club in Toronto.

WestJet flew each of the kids from St. Alban's out to a different airport so they could see their idea come to life in person. Each individual "miracle" can be seen on WestJet's Christmas hub.

At the end of the "12 Flights of Christmas" video, WestJet is encouraging Canadians to support their own local Boys and Girls Club, on top of a $10,000 donation it made to St. Alban's Boys and Girls Club. This year, the airline celebrated the 10th anniversary of its WestJet Cares for Kids charitable program, which supports Boys and Girls Clubs of Canada in addition to many other children's charities, like Big Brothers Big Sisters, Make-a-Wish, the Missing Children Society of Canada and Ronald McDonald House.