Balzac's gets into events with visual refresh
The roaster's newest cafe will double as an event space to diversify its business beyond just "great coffee."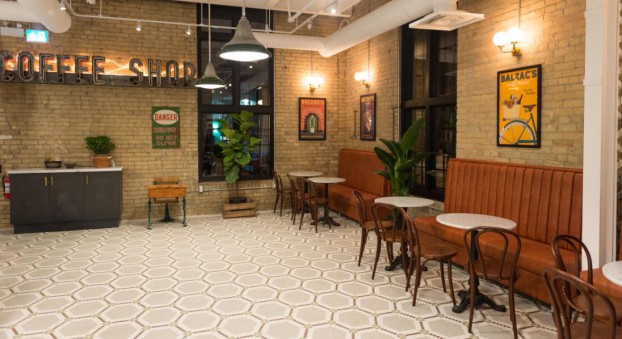 Balzac's Coffee Roasters has debuted a visual refresh and new creative direction with the opening of its fourteenth location.
Located in Toronto's Davenport Village, the newest Balzac's shop incorporates all the elements of the brand's renewed in-store aesthetic – previously implemented at its Ryerson University location – and will double as an event space offering regular programming and community events.
While the company has also renovated its Ryerson cafe, Powerhouse – as the new location is being called – is the first to include the latest fixtures and was designed with events in mind.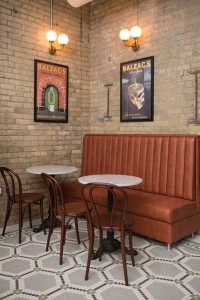 Balzac's president and founder Diana Olsen says she hopes that will "bring some life into the cafes in the evening," as operating costs increase and it becomes ever more important for shops "to think of creative ways to diversify your business." Powerhouse will operate as a regular coffee shop by day, with the expectation that it will also play host to weddings and corporate events, as well as one or two community events per month in the evenings, such as cooking classes and craft workshops.

Powerhouse is equipped with a walk-in cooler in the basement and three taps in order to accommodate serving alcoholic beverages at events. The space was designed to transform seamlessly from a coffee joint into an event space, according to Olsen.

The brand has previously put on events at its Toronto Distillery District location, and it sees an opportunity to do more events in its existing locations.

"It's not enough to have great coffee," Olsen says. "There are so many great coffee producers out there now, that's almost just an expectation with millennials."

Beyond responsibly sourced, high quality beans and fresh-roasted coffee, consumers – especially city dwellers – expect a cozy atmosphere with access to WiFi, ample seating and outdoor areas. That's why Balzac's is rolling out a new look across all its cafes as it becomes time to renovate them, starting with those which haven't been renovated in at least five years.

The renovated locations include new fixtures and menu boards, new marble countertops and more plants, which are "a big thing now," according to Olsen. Virtually every surface has been redone, but the company has decided to maintain the original layout.

Olsen says a visual refresh was needed since so much has happened in restaurant design in recent years that Balzac's coffee shops had started to look "tired" or "not unique."

Despite all the changes, Olsen says Balzac's will remain first and foremost a coffee roasting company. She says, "I never want to detract from the coffee itself."