2018 MOY: How to hack it on the global stage
HP's Esteban Davila proves that fortune favours the brave as the marketing head pushes for more Cancon with global impact.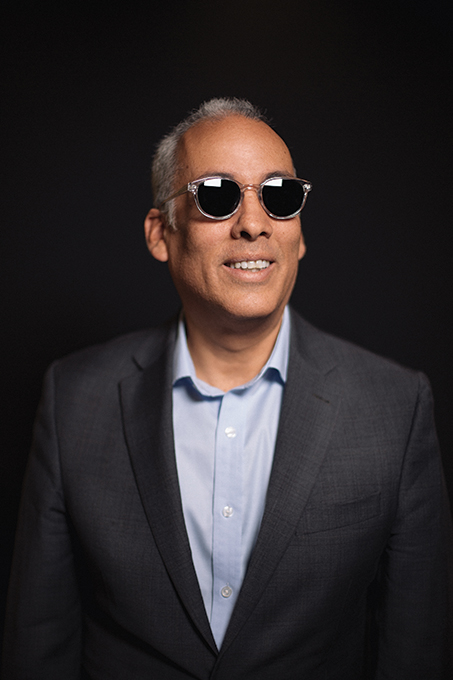 This article appears in the January/February 2018 issue of strategy
Esteban Davila is no Cowardly Lion.
The Venezuelan marketer isn't afraid to push a Canadian market agenda. He doesn't let the risk of rejection prevent him from suggesting that a hacker (whose attacks caused billions of dollars worth of damage at the ripe age of 15) be the subject of an HP-endorsed film. And he felt little trepidation when fighting to have his Canadian team produce and broadcast the company's first-ever TV spot. Davila has spent his career mastering the art of being bold. His secret: "I stopped worrying about being fired a long time ago."
Removing that fear can be freeing, he says. It gives him the courage to push his agenda – that is, to prove to global big wheels that the work in his market is worth investment. Just this year, HP Canada found a global spokesperson for its brand. The protagonist for HP's documentary Rivolta (which took viewers inside the mind of one of Canada's most notorious hackers, Michael "Mafiaboy" Calce) was such a good fit with its objectives that he was picked up by HP's HQ. As a result of the Edelman-created doc – the first branded film at Hot Docs – HP increased hardware and solutions sales by 174%.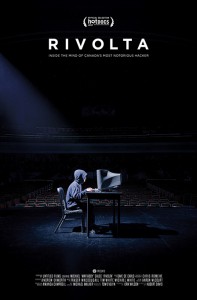 Now working as a cybersecurity consultant for major banks and corporations, Calce tours the world, making stops in the U.K., U.S., Europe, and Latin America to speak about today's cyber attacks (of which many take place via printers) and offer security advice. HP Canada books all of his speaking engagements, which create a halo effect on the brand as Calce links print security with the company's products.
The team also tasked Calce to create an advisory board, comprised of experts in the field who work with Davila, his CMO and the IT organization to advise HP on today's threats, as well as how to develop technology that better prepares customers. "Little Canada was able to help shape something that is really key to our strategy. And now our security goes beyond printing, it's overall security," he says. (See p. 16 for more on how the brand is hacking its way into other markets.)
Davila helped put a spotlight on Canada (Rivolta went on to win a Cannes Lion and Clio after its debut last March), but if HP had not restructured its business in 2015, there may have been less cause for celebration. When the company split into two separate businesses back then, it shifted the dynamics between offices and teams. Hewlett Packard was broken up into HP Inc., which focuses on PCs and printers, while Hewlett Packard Enterprise is more concerned with the selling of its systems, software and technology.
"We are now a start-up of two Fortune 50 companies," says Davila of the split. "It gives us the opportunity to be more focused as a marketing organization, as a sales organization, and a category organization. It gives us more agility, and in my case, personally, I've been able to influence how things are not only done in Canada, but even the Americas."
HP-ers are now more tightly-knit, with Davila regularly found speaking to his two U.S. directors (one in printing, the other in PC) on Whatsapp. Channels have been opened for idea-sharing, which the marketer had not really witnessed prior to the restructuring, saying that his global colleagues are more engaged with their counterparts now. That freedom of communication and receptiveness to outside influence is also what helped Davila's team launch the company's inaugural TV spot – ahead of the U.S., which was originally first in line.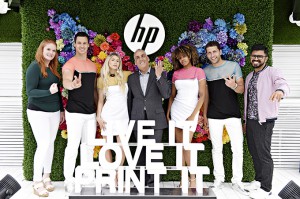 The commercial for Sprocket, a pocket-size photo printer (created to help HP "drive a print renaissance"), aired in early November. It was built on the insight that younger generations have grown up without the experience of printing their own photos. There's a certain sentimentality that's lost in digital, explains Davila. The commercial demonstrates the emotion behind physical images, with a young girl hiding printed selfies in her grandparents' home (from the fridge to the garden) for them to find when she's not there.
Davila says his team began working on the creative in advance of other markets, but there was some pushback from the U.S. when it wanted to launch its own commercial. The American concept, however, had an entirely different bent. While still stirring emotion, the focus was heavier on presenting gifts (PC, not printing) for the holidays.
"I was able to convince my manager and our print director that we could do production in a way that, even if the U.S. still does theirs, it wouldn't pose a financial issue," he says of the decision to time the TV spot to be shot and aired one month before his neighbours. "In my case, it was key to be in market on time… to take advantage of the pre-holiday season."
Also, Davila didn't want his creative to focus on Christmas because of Canada's diversity and scale. "I wanted to do something a little more universal. We didn't do a holiday story, we did one with human insights. And with the smaller resources that we have, I can't afford to do a TV ad for this season or that event."
Sprocket is just one facet of the company's efforts to "Keep Reinventing" – a global brand platform that addresses HP's urgency to meet consumer demand. It's thinking ahead, creating the miniature mobile printer as a way to reinvent itself for a younger generation that's printing less. For this audience, convenience and functionality is critical. HP's Instant Ink subscription-based product (which can be delivered to homes for a monthly fee) similarly caters to time-saving millennials. And while design has not been one of HP's strong suits, the company is reinventing its aesthetics for those who grew up purchasing products with more appealing form.
"Maybe three years ago, [our laptops] were not as pretty," says Davila. But today, HP's premium line of PCs places more emphasis on design: creating a minimalist logo, encasing laptops in rose gold, shrinking their size to be "extraordinarily thin," but still having "revolutionary power," and offering high-end features like speakers from Bang & Olufsen. "We always had the technology to compete, but not the form factors against others where the product stood out."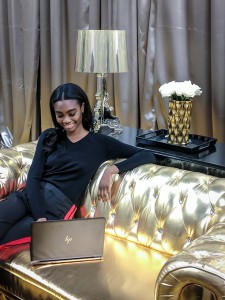 Targeting stylistas in a Canada-first activation, the team took its design-friendly Spectre computer to Toronto's 2017 Fashion Week, where it set up a "media hub" for journalists to sit between shows. The room's main centrepiece was a gold couch (reflective of HP's new aesthetic), which Davila says was the star of the event, with people coming in just to have their photograph taken with it. The brand's GM frequently presented to attendees, which also included some of its key business customers. "We used to take [those customers] to golf courses. Now we're taking them to fashions shows," says Davila. "We're trying to be more personable, because we used to be a little boring."

Today, his objective is to explore new innovation, something a larger company would have struggled with before. "When you're large, you're like a big ship. You have to ask so many people to do certain things, it takes years."

And even though HP separated its core businesses, it recently brought the marketing departments for both printing and PC together under one of ten market leaders.

Davila was named that person in Canada, being promoted to country marketing manager in July. His first order of business has been to grow the team, which he is currently in the midst of doing, hiring staffers to improve capabilities and creativity in Canada.

"Now I have an opportunity to look at [both sides] with fresh eyes," says Davila, who used to only manage the printing side. "People might think we're traditional and conservative, but I have a mandate within my team to be in places we are not expected. I relate very much to HP as a company. I am also not afraid."

Featured image credit: Josh Sam