Fun with Frank
Frank Palmer believes the joy is being sucked out of creativity, but he is still excited to play the game.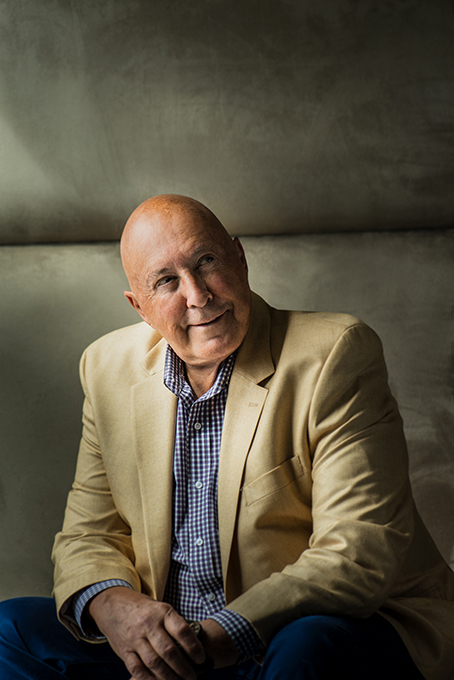 This article appears in the January/February 2018 issue of strategy
I found Frank Palmer already seated at the table upon my arrival for lunch. One of the last remaining through-lines between the ad industry of the '60s and today, Palmer has relished in crafting the persona of a prankster, so admittedly I was a little on guard: there's no telling what's really in my coffee. That's why, after carefully inspecting my chair, his first words take me by surprise:
"The industry isn't as fun as it used to be."
It's a line repeated in the early pages of Let's Get Frank, a book by Robin Brunet set to hit shelves in mid-February. The biography covers the trajectory of the DDB Canada chairman's career and what happened both inside and outside the agency walls. During our lunch, Palmer shares his wisdom on an industry that's more entertaining when you take risks.
Palmer still believes in a founder's power.
Few agencies are run by entrepreneurs. There's nothing wrong with professional management, but having a founder is powerful because it's their money and they take risks.
When you go against the founder in a pitch, your chances of winning get pretty slim because they'll do anything. I'll find a way to outwork you and outsmart you. I'd never do anything illegal, but I'll take shortcuts if I can. When I was six, I was standing at school not getting picked at recess, and that makes you go, "I'm going to do the picking." And you have to change the rules sometimes to do that.
Money is taking the fun out of big ideas.
Most agencies are owned by multinationals now, so you have to be focused on the bottom line. And it's coming from both sides, because clients, more than ever, want results. It used to be that you had a gut feeling that something was the right thing to do. It wasn't researched to death that it becomes vanilla. You're not going to get a response from that work because there's no emotion left. For me, most of the ads I see are crap.
He sees value in an independent mindset.
I used to be Home Hardware. I've become Home Depot. Home Depot will sell you fridges and stoves and barbecues, but if you want a bolt, they won't know where to find it. Home Hardware will take me down the aisle to where it is and give it to me on the house. The last shop standing will be the little agency in a little market that still has a relationship with hometown clients.
If I tell a client I'm part of a multinational that can use global resources, but we're still local and nimble, most will say, "I've seen your work, it isn't as nimble as it used to be, and your multinational does control you." But if I'm independent, I have power to change what they don't like. That's the kind of angle I still look for in the framework I work in now.
At 77, he wants to play the game again.
The best job in hockey is to either be a player on the ice or the owner in the office. I've been the coach and the manager in the middle for a long time, but now I'm working with a new client in the condo business in Victoria, and I'm a player again. I like playing the game. I may not be as fast as you, but I'll always find a way to take you out.

If I were to start something new, I'd be an owner again. Selling to DDB was in a lot of ways a great thing, but at the same time, it's not yours. Sometimes you want to own something again that you can build and feel good about.