New Balance declares its independence
The brand highlights its widening product range, from sports to lifestyle, in a new global platform and campaign.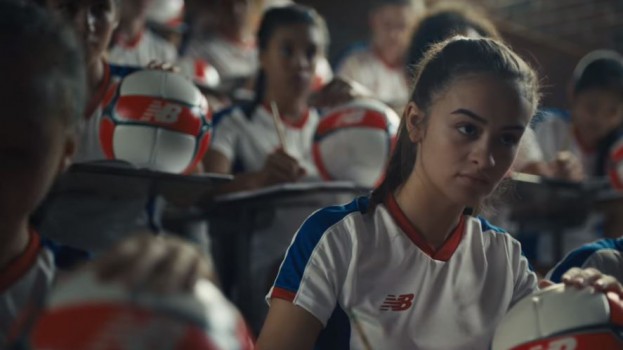 Sports footwear and apparel manufacturer New Balance has launched a new global brand platform, pushing the notion of independence to the forefront of its brand identity.

Independence has been a pillar of the brand since its inception in 1906, says Jon Purdy, senior marketing manager at New Balance Canada. But only now is the company, with its Fearlessly Independent Since 1906 platform, consciously highlighting that facet of its business.

"The global teams and the brand teams really wanted something that was authentic, that really played off our heritage and who we are as a brand," says Purdy.

New Balance is promoting its refreshed identity through an integrated "Declare Your Independence" campaign, launched on Feb. 7. The global effort features seven new brand ambassadors from the U.S., including baseball player Francisco Lindor, soccer player Rose Lavelle and lacrosse player Paul Rabil.

Long and short films, with six-second bumper and pre-roll adaptations, will run on the brand's social and YouTube channels, showcasing the athletes' independent style and determination in sport. Purdy says boosted posts are key to its social strategy.

The global platform has been adapted to account for regional cultural differences, says Purdy. In Canada, the company is working with some of its locally sponsored athletes, such as tennis player Milos Raonic, hockey player Brad Marchand, baseball player Curtis Granderson, and runners Trevor Hofbauer and Rachel Hanna. Campaign assets have been translated in French for the Quebec market.

While New Balance is first and foremost a running brand with a strong presence in the footwear category, apparel has become a bigger part of its business. So, with the new platform and campaign, says Purdy, the brand is looking to drive consideration for a varying range of products from sports-related to lifestyle.

In addition to its current customer base, the brand hopes to attract "metropolitan athletes," a segment aged 24 to 34 years old who enjoy a range of sports and train in social groups (a group that skews slightly female), as well as "game-changer athletes," those aged 15 to 23 who are really dedicated to one or two sports and have built up social media followings.

"Declare Your Independence" is being amplified through a content strategy driven through partnerships with global media companies, including Bleacher Report, Refinery29 Uninterrupted and Vice. In the Canadian market specifically, it has partnered with The Score and Spotify. Those partnerships span distribution and content development.

VML developed the brand's platform and visual identity and U.S.-based Ace Content created the campaign.