CASSIES Silver: Oikos dreams up a Greek promotion
Taxi takes an aspirational approach to getting Greek yogurt in front of a younger target.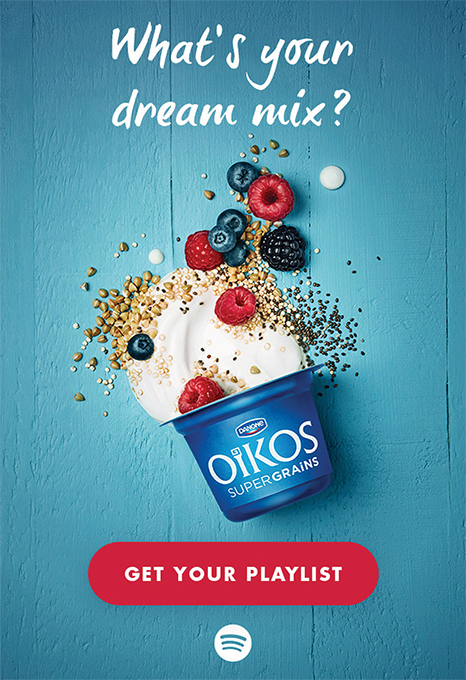 This article appears in the March 2018 issue of strategy.
+ Silver: Sustained Success
When Oikos first launched, it targeted older consumers with disposable income due to the product's higher price point. But the consumption of Greek yogurt had changed. It was now being purchased as a snack by "late millennials" (aged 29 to 39) that value authentic experiences, quality, originality and novelty.
The brand was looking to launch different products within the Oikos franchise, so a strong umbrella campaign was required. The team decided to position Oikos as the "dream snack" and launched a series of videos anchored in Greek mythology and culture.
The Oikos "Dream" campaign, created by Taxi, ran nationally from January 2015 to April 2017 with an annual $2-plus million budget. The videos, featuring a man who is transported to Greece where he meets a beautiful, mysterious woman, were created with 11 "alternative endings" on YouTube.
OOH showcased the different flavours, while a playlist on Spotify provided a "dream mix." In 2016, the campaign, following the same "dream" idea, focused on launching the new indulgent product line, Oikos Creation. In 2017, the creative launched the new Supergrains range.
Results
The YouTube alternative endings generated over five million views. Oikos increased market share by 5.2 points in 2015, another 4.6 points in 2016 and 0.8 points in the first half of 2017, exceeding all the share lost in 2014 and resulting in the brand's highest ever share. Sales increased 18% in 2015, 16% in 2016, and 5% in the first half of 2017. The Oikos work in Canada has since been adapted for other markets.