K-Swiss aims to 'crush' its entrepreneurship positioning
The sneaker brand returns to the Canadian market with a limited-edition shoe and a strategy to win success-minded consumers.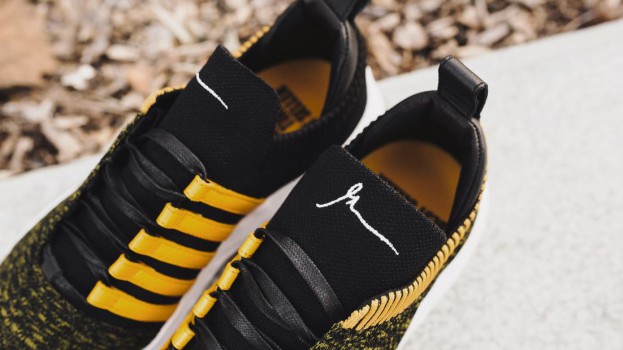 Sneaker brand K-Swiss continues its push to own the ideals of entrepreneurship, unveiling a limited-edition sneaker in partnership with entrepreneur, author and agency founder Gary Vaynerchuk.

The U.S.-based company launched its signature "Crushing It" sneaker during an event at Toronto's BrainStation on Feb. 27. The event also marked the relaunch of K-Swiss' business in Canada through its new distributor, Mint Green Group.

The shoe – which serves as a companion to Vaynerchuk's new book of the same name – is a special colourway of the brand's GaryVee 001 sneaker, launched in November. The GaryVee 001, along with the GaryVee 002, were found primarily in the U.S. market and sold out rapidly. After hearing from K-Swiss customers in Canada and the U.K., the brand decided to bring part of its 600-pair Crushing It inventory to Canadian consumers.

The sneaker is part of K-Swiss' broader brand strategy to tap into young consumers' infatuation with business leaders and entrepreneurs. In July, the brand launched its "Generation K" campaign, which reflected the new positioning, with a spot featuring Vaynerchuk.

The strategy is based on the idea that "young entrepreneurs are the new aspirational heroes of youth culture," says Barney Waters, global brand president of K-Swiss. He notes that Nike has tried to own the athletic position, while others, such as Adidas and Puma, have focused on celebrities and entertainers, believing that they've been awarded more cultural status than athletes. "We believe it has shifted again and that the new heroes are these entrepreneurs," he says, "because young people now are aspiring to be CEOs, and not quarterbacks."

For K-Swiss, Vaynerchuk may be the face of that movement – "He's like our Jordan," says Waters – but he's far from the only entrepreneur sporting sneakers and jeans on a regular basis.

Waters says the brand's marketing in Canada will be focused on entrepreneurship, but also "heritage K-Swiss," best represented by the brand's iconic "chunky" white sneaker, which Waters says is becoming increasingly popular again.

At first, Waters says the idea of doing a signature sneaker was a little "tongue-in-cheek," a way of "juxtaposing" itself against other brands. But the success of the GaryVee 001 and 002 led the brand to double down on its effort.

PR for the launch event was supported by Chimera Collective.