BMO launches chatbots on Messenger and Twitter
The bank makes customer support available through a pair of conversational platforms.
BMO has another option for customers looking for more information about the bank, launching new chatbots on Facebook Messenger and Twitter.
Dubbed BMO Bolt, the chatbot will respond to customer questions and provide them with information about branch locations, products and services, exchange rates and FAQs about how to perform different banking functions, as well as be connected with a human associate to ask any questions the bot is unable to handle.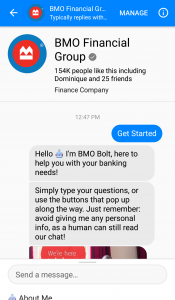 The Facebook Messenger version of Bolt (pictured, left) also has AI-powered natural language capabilities, allowing it to interpret a range of questions and user intents, as well as improve its comprehension the more it interacts with customers.

"Our goal is to provide an exceptional customer experience and meet our customers where they are, and digital is increasingly becoming the preferred way for our customers to engage with us on a daily basis," said Brett Pitts, chief digital officer at BMO Financial Group, in a press release.

"The launch of these chatbots, and the integration of AI into our customer facing technology, provides an opportunity to build upon the relationships we have with our digitally active customers and create more convenient and personalized experiences through both self-service and assisted-service channels," he added.

The Facebook Messenger chatbot was developed with Finn AI, a conversational marketing company focused on the financial space that has previously worked with ATB Financial and Thinking Capital in Canada. For the Twitter bot, BMO worked with Massively, which has also developed Twitter bots for Nestle's Delissio brand in Canada.

Both of the bots are fairly informational in nature, focusing on customer service instead of actual banking tasks like checking account balances, paying bills or transferring funds. They are also an a level of functionality similar to BMO's skill for Alexa, and par for the course for BMO's competitors who have previously launched Messenger and Twitter bots in Canada. This is partially due to privacy, security and regulatory concerns over sharing banking information through a chat platform, as well as taking the time to test the bots and make them work effectively.

However, some banks in the U.S. have launched transactional skills on Alexa, and ATB's Messenger bot has many of the same functions a customer would perform through their online banking account. In fact, when ATB made its chatbot available to all of its customers, the company hailed it as "the world's first full-featured virtual banking assistant," having pulled together several individual features that had been tested elsewhere into a single platform. CIBC also has a chatbot that allows clients to perform global money transfers to friends and family oversees.

While more of a customer service tool than a banking platform, BMO made sure the bot was ready to handle any question a customer could throw at it. It was trained on 250 of the top customer questions received by BMO's call centres, its website and online banking help centre.