Health Canada unveils cannabis packaging rules
Limited branding will be permitted on plain packaging that prioritizes health warnings and product information.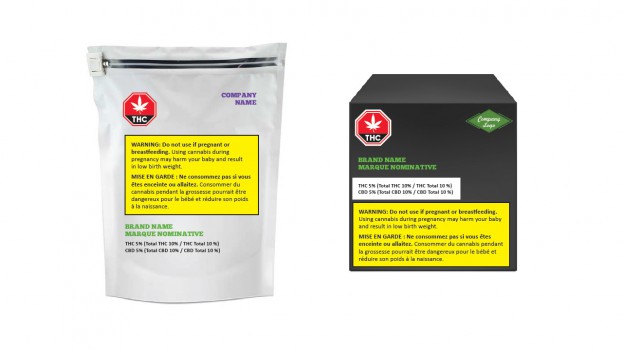 Examples provided by Health Canada of cannabis packaging considered acceptable under its proposed guidelines.

Health Canada has released a report summarizing the findings of its consultation period on its proposals for the regulation of recreational cannabis on Monday, painting a clearer picture of what packaging will look like following legalization.

According to the report, regulations would require packaging for cannabis products to have a single, uniform colour with a standardized font style. Producers will be allowed to use their brand name and logo on the packaging, but those will be subject to size limitations and can only be used once on the principal display. Other graphics, images or alterations to the packaging (such as special coatings, embossing or cut-outs) will be prohibited, though the size, shape and material used in the packaging will not be standardized. All packaging must be child resistant, as well as opaque or translucent.

Packaging would also require a long list of information about the product, including the name and contact information of the processor, product description, THC and CBD content, potential allergens and the statement "Keep out of reach of children." Packaging would also have to include a "universal symbol" (the "stop sign" logo in the image above) denoting that it is a cannabis product, as well as a health warning message inside a yellow box printed in the largest font on the label. Similar to the warnings on cigarettes, the messages would rotate and include things like "Cannabis smoke is harmful," "Do not use if pregnant or breastfeeding" and "Regular use of cannabis can increase the risk of psychosis and schizophrenia."

Health Canada said in its report that "a clear majority" of those who provided their opinions during the consultation period supported the government's initial proposal to take a strict approach to cannabis packaging, although there were "mixed" opinions on the degree to which branding and logos should be restricted. Among those who disagreed with the proposal, many "felt that the ability for the legal industry to brand their products was necessary to allow them to differentiate their products from their competitors, including illegal producers operating outside of the legal framework," a sentiment echoed by a coalition of cannabis producers who created their own proposed guidelines for cannabis packaging and advertising.

The Consumer Choice Center said Health Canada's packaging regulations would threaten consumer knowledge, their ability to make choices and embolden the black market.

"Branding and marketing are essential for consumers to make informed decisions," said David Clement, North American affairs manager for the Consumer Choice Center, in a statement. "Limiting branding will make it more difficult for consumers to make informed decisions when purchasing legal cannabis. In addition to that, we know from branding bans on other products that uniform packaging restrictions make it significantly easier for black market actors to pass their contraband as legal product."

The main purpose of its approach to packaging, Health Canada said in the report, is to ensure that people – and young people in particular – are not enticed to use cannabis. Minister of Health Ginette Petitpas Taylor and chief public health officer Dr. Theresa Tam emphasized in statements that the Health Canada regulations took an evidence-based, public health approach to help keep cannabis out of the hands of youth and to ensure Canadians make informed decisions. Parliamentary Secretary to the Minister of Justice, Attorney General and Minister of Health Bill Blair said the approach was informed by the input of Canadians to displace the illegal market, enable a competitive industry and, again, keep cannabis out of the hands of youth.

All of the new proposals would also apply to cannabis products for medical use once the Cannabis Act is passed, with six months for producers to transition to the new rules. Medical cannabis currently does not require any health warnings, and has little to no restrictions on the colour, branding and images on packaging.

Health Canada said it heard from more than 3,200 Canadians and 450 stakeholders over the course of the 60-day consultation. None of the proposals outlined on Monday are final, and are still subject to change until the Cannabis Act is passed (a Senate vote is currently set to happen on or before June 7). Rules around the advertising and marketing of recreational cannabis are still being decided, while further details on retail regulations are being incrementally rolled out by the provinces.