Iogo Proteine energizes the umlaut
The brand's fun-loving punctuation marks are enlisted to help launch new flavours in its energy-focused product line.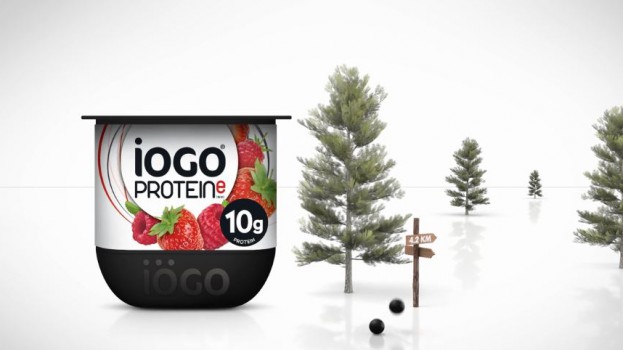 Iögo's Proteine line has launched a campaign touting its benefits as a filling, high-protein snack that can keep you going when you need it the most.
The campaign, led by Montreal's Alfred and commissioned by the Agropur cooperative, promotes the Iögo Protein line's new flavours and formats, including plain, caramel and strawberry/raspberry.
Three 15-second spots cast the brand's iconic umlaut (the punctuation mark found above the "o") as characters participating in fun activities that risk being disrupted by hunger. In each scenario, the yogurt saves the day, allowing the fun to continue unabated.
The creative direction stemmed from the idea that you don't have to stop having fun simply because you crave for a snack, says Éliane Ouimet, director of marketing at Agropur. The company has been personifying its umlauts in its creative for the Iögo brand since 2016. But it's now using them for Iögo Proteine to both promote its energy benefits and help it enter the protein-rich snacking segment, says Ouimet, an idea captured by the campaign's tagline, "stop the hunger, not the fun."
The ads began airing on TV on March 19 and will run for 12 weeks, with a digital effort having started on March 5. In addition to the videos, the campaign includes a digital and mobile contextual banners aimed at people who may be getting hungry while shopping online or watching a show. Finally, a Republik-led social influencer campaign involving three influencers and Montreal and Toronto will launch in the coming days.
Ouimet says Iögo Proteine is aimed at active consumers, older millennial men and women aged 25 to 34 who would even consider replacing meals with multiple healthy snacks throughout the day. But media is targeting the slightly broader audience of those aged 25 to 44.