How Crowns Creative aims to serve cannabis clients
Former JWT VP Rebecca Brown starts a new shop to sit at the intersection of a booming industry and disruptive agency models.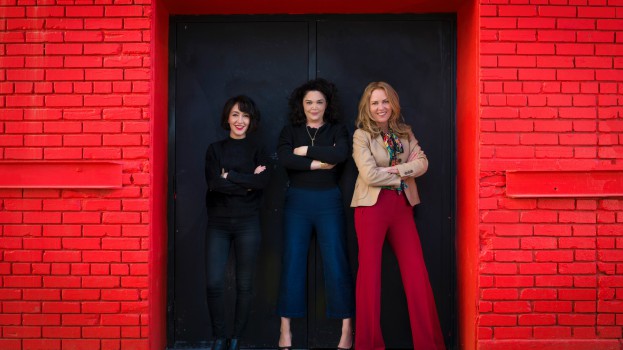 From left to right: Mindy Loverin, Rebecca Brown and Precious Chong.

The doors have opened at Crowns Creative, a specialized agency built with Canada's cannabis industry in mind.

Rebecca Brown, Crowns' founder, was previously VP of social media and content at J. Walter Thompson Canada, leaving the agency to join digital agency Abacus as its chief revenue officer early last month. She will continue with her duties at Abacus, while also launching Crowns. This was something Brown says was planned at the time of her joining.

Brown was familiar with the opportunity Canada's cannabis industry presented, having pitched the business for Starseed Holdings while at JWT. But aside from the business opportunities cannabis offers, Brown says launching Crowns is also a chance to capitalize on the interest for new agency models and changing agency-client relationships. Crowns was built to be nimble and agile, taking cues from startups to build teams around clients and their specific problems, while also having a core team that is deeply familiar with the regulations that will govern marketing in the cannabis industry.

"You can't be briefing agency teams on regulation all the time," Brown says. "It's really complicated and changing and, in some instances, different from province to province. You can't succeed in the space and be agile if you have to re-educate your agency partner on compliance and regulation. You need a partner that is already deeply immersed in that space and will be the ones that come to you with what the opportunities are."

For now, the permanent team at Crowns consists of Brown, an art director, a strategist and project manager. Brown says those are the areas where the agency's permanent headcount is going to increase, while talent with expertise in other areas will be brought in as needed.

"I know this isn't new, and we're not the first agency to use this kind of model, but I think it makes particular sense for the cannabis industry," Brown says. "We don't know what the needs of the industry will be in three months, so I don't want to force my clients into using the skill sets that are not the best minds to help them solve their problems. We need the strategists, project managers and analysts to be the regulatory experts, and then we will assemble teams of different kinds of thinkers in other areas to solve the problems as they arise and are brought to us by our clients."

Through her experience exploring the players in the cannabis industry, Brown says she also saw an opportunity to address another issue the cannabis industry is facing with Crowns: diversity.

"We're not seeing diversity of representation at the leadership and board level inside of the licensed producers," Brown says. "As a contrary person, I felt a little indignant about that, but was also attracted to the idea of having a women-led offering in the space that leaned into the things that I know how to do."

Abacus will also be a strategic partner to Crowns, sharing some talent resources, but primarily providing support in digital performance, growth and SEO marketing. Abacus has products that allow clients to rapidly test ads and creative in-market, something Brown says is especially valuable to cannabis clients.

"It's a competitive space, and it's going to be very loud out of the gate," Brown says. "The producers don't know very much yet about their consumer, so they have very little input to inform their decision making and little margin for error. You need to connect with your consumer out of the gate." So being able to test propositions in the market quickly is valuable.

Another one of Crowns' strategic partners is Cannabis Compliance Inc., a consulting firm that assists licensed producers, primarily when it comes to regulatory issues and compliance. CCI will help Crowns make sure its staff is up-to-date on those regulations, and will also be a "pipeline partner," with Crowns servicing some of CCI's existing clients. Crowns is also working with CCI on some communications and creative projects of its own.

Crowns' has also assembled an advisory of experts to help shape the agency as it grows: Precious Chong (daughter of Cheech and Chong's Tommy Chong), Mindy Loverin (VP of strategic partnerships at Shutterstock) and Paul Rowan (designer and co-founder of home decor company Umbra). Brown says more additions to the advisory will be made in the coming weeks.

Brown says that besides being honest, upfront and transparent with clients about who else the agency is working within the space, Crowns plans to avoid client conflicts by offering team exclusivity. Staff will be assembled into teams that will be dedicated to particular clients and solving their business problems, and strategy and data proprietary to clients will not be shared between teams.