A day in the life of an Olympic dairy cow
The Ultima Foods yogurt brand unveils playful creative that thanks its "cow-workers" and dairy farmers for their work.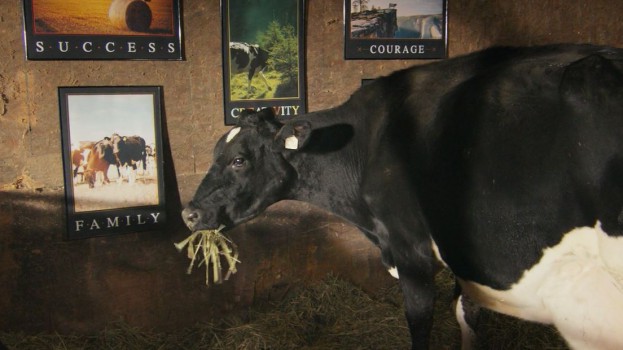 Ultima Foods's yogurt brand Olympic has debuted new creative that explores the lives of the cows and farmers at the source of its products in order to emphasize their organic roots.
The campaign, led by Lg2, is a continuation of the "Good nature. Good people. Good yogurt" positioning that came out of Olympic's 2016 rebranding work, which delved into its B.C. origins and connection to the land.
Several spots have been produced for the digital campaign, all of which playfully position cows as the "cow-workers" and "cow-leagues" of the company's dairy farmers, says Fany Dubuc, marketing director for Olympic and regional brands at Agropur, which acquired Ultima Foods last year.
Each spot explores life as a bovine employee. A 15-second clip called "The First Day" shows a cow being introduced to its "open-concept" office (where organic grass is "all-you-can-graze"); in a shorter spot called "HR Department," a cow stands next to a barn wall decorated with motivational posters.
The digital campaign includes the videos, social posts and web banners, which will roll out throughout the year across Western Canada and Ontario. A TV spot has also been deployed in B.C., using creative from a previous campaign that is part of the same platform. Bloom Media is handing media duties.
"Olympic is a really grassroots brand. It's handcrafted-inspired, and this is what consumers are looking for more and more," says Dubuc. "The story behind the product – knowing where it's made, how it's made – is very important. It's all about building trust with the brand."
Olympic yogurt continues to be primarily produced in Delta, B.C., giving it strong resonance in the province.
The goal of the campaign is to appeal to millennial consumers, who have shown a desire to know the origin of the products they consume. Showing the relationship Olympic dairy farmers – and by extension, the brand – have with cows is an important to the its natural positioning.
"For all of our dairy products, we work with selected farms," says Dubuc. "It's very specific farms; we know the address, the name of the farmers, the name of the cows."
Since refreshing Olympic's positioning two years ago, the brand has been the fastest-growing organic yogurt in Canada and has helped drive growth in the segment, according to Dubuc.