Citizen partners with Provident Communications
The deal deepens the agency's capabilities in corporate PR, B2B media relations and crisis management.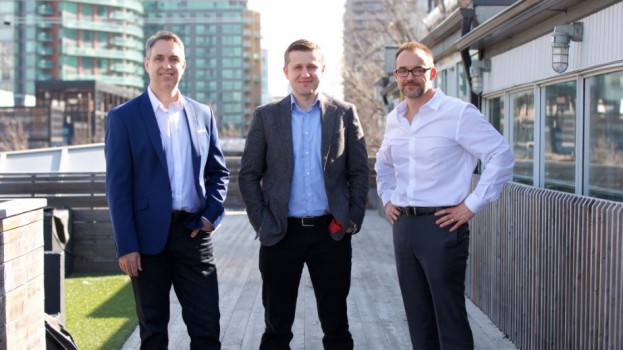 From left to right: Michael MacMillan, EVP at Provident Communications; Wojtek Dabrowski, founder and managing partner at Provident; and Nick Cowling, North American president at Citizen Relations.
Citizen Relations has entered into a exclusive partnership with Provident Communications, a Toronto-based boutique corporate PR shop.
Both Citizen and Provident will retain their individual agency brands, while deepening their respective capabilities in corporate and consumer PR and creative services.
The partnership gives Citizen access to Provident founder and managing director Wojtek Dabrowski and EVP Michael MacMillan, strategists specializing in corporate communications, B2B media relations and crisis management. In turn, Provident gains the backing of a global integrated agency, along with its expertise in experiential, influencer and social communications.
"The fact that we excel on [the consumer side] in some ways overshadows the strengths we have in corporate, public affairs, issues and crisis," said Nick Cowling, Citizen's North American president. He says while Citizen has some talent in place on the corporate side, his firm has been looking for a "leader" to take the offering and build it out for some time.
As part of the deal, Dabrowski and MacMillan will be spend a few days per week at Citizen, where they will help mentor staff, offer client advice and work on joint client pitches.
The firms have been working together since early 2018, according to Cowling. But he says the shops are testing out the relationship and figuring out how best to work together.
Asked why Citizen did not acquire Provident, as it did Black Chalk Marketing last year to grow out its experiential business, Cowling said, "I would love to buy them. You know, I tried." For now, he said, the firms are going to be "exclusively dating."
"We think a partnership that lets us stay independent at this stage is the perfect model for everyone involved," said Dabrowski, via email. "We will get a chance to learn alongside a large, integrated agency like Citizen, and they will get to have a feel for what it's like to work with a corporate communications shop that's small and moves fast, often in really high-stakes situations."
Before launching Provident in 2016, Dabrowski served as the VP of CEO Communications at Manulife and as director of executive communications at Royal Bank of Canada. MacMillan most recently served as SVP at High Road Communications.