Snapchat launches shoppable AR
New features on the platform include the ability to incorporate ecommerce into branded lenses.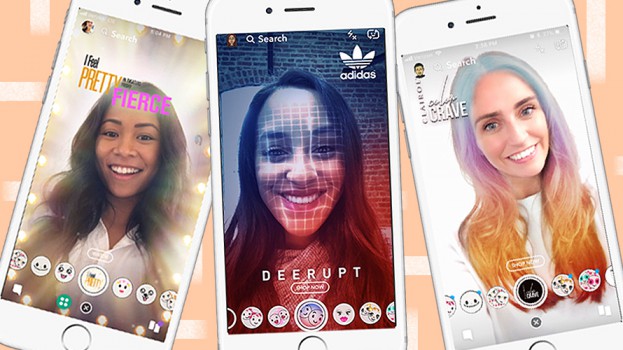 Snapchat has launched new features for an augmented reality lens, including the option to direct users to pages where they can buy products without leaving the app.

The platform has added three new buttons to the AR lens for advertisers to use. The first button, when pressed by a Snapchat user, redirects to a website, such as a brand's ecommerce page. The other two buttons give users the option to install an app or watch a video from a brand.

The new features – which reduces friction by keeping users within Snapchat's platform – will not come with a price increase for advertisers. The company says 70 million users globally interact with lenses on Snapchat each day.

Adidas and Coty are among the first brands to test lenses that drive to product pages. To promote the new Deerupt sneaker, Adidas' lens puts an overlay of the same white mesh pattern that forms the shoe's signature look onto a user's face. For a more direct, try-before-you-buy approach, Coty is using a lens to let users see how a hair colour might look on them, an idea that many beauty and cosmetics brands have tried on other platforms.

For the other features, mobile game developer King has a lens that releases colourful confetti and streamers before inviting users to install Candy Crush. Media company STX Entertainment has also launched a lens that directs users to a trailer for Amy Schumer's upcoming film I Feel Pretty.

Snapchat first tested shoppable lenses in February with Nike, celebrating the 30th anniversary of the Jordan brand by allowing users to recreate Michael Jordan's famous slam dunk contest performance at certain locations in Los Angeles during the NBA's All-Star Weekend. The lens also gave a select number of users early access to the latest Air Jordan sneaker.

Snapchat will also give direct response data to advertisers that are running campaigns with the AR lenses, allowing them to track how many website visits or app installs the ads generate. For the time being, the extra lens features are only available in the U.S. and U.K.