Moosehead aligns its brands
The beer co. has repackaged its four product lines to create more consistent branding.
Since 2016, independent Canadian brewery, Moosehead, has been focusing its brand messaging and packaging around the moose found in its name. For the 150-year-old company, the moose is a symbol of resilience, "it embodies who and what we are," says Adam P. Reid, director of marketing.
Through research, the company discovered that although consumers love its beer, there is room to create a fresh and modern look and to attract millennial consumers while not alienating an older demographic.
The Moosehead brand's four products are very different and the company was looking for better brand alignment. So it decided to do a full redesign of its packaging across the Moosehead Lager, Moosehead Pale Ale, Moosehead Light and Moosehead Grapefruit Radler product lines.
The brand changed its fonts and tweaked the colour palettes, with the moose as the "hero" for the new design.
"The packaging change was a balance between heritage and modern," says Reid. "We wanted to pay tribute to our rich history, but also look towards the future."
The Moosehead brand has about a 4% market share nationally and 5% for Ontario. Reid hopes to see a 5% lift in market share as a result of the campaign and redesign.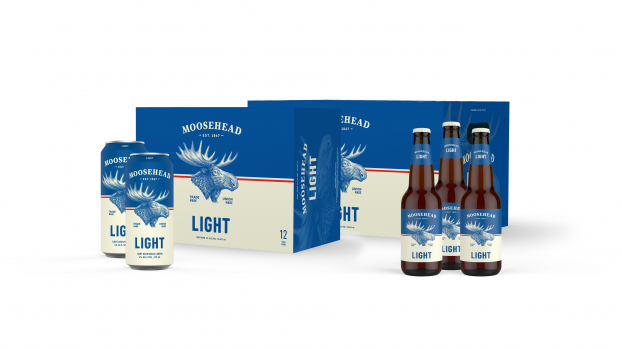 The target is between the ages of 19 and 35, with a bullseye of 25 to 30. As the next generation of consumers are also important to the company, "we want to make sure the packaging attracts them as well," Reid adds.
The campaign launched on April 23. On shelf, activations started this week with large displays in parts of Ontario beginning April 30, and there will be signage, displays and sampling in-store. Working with Brand Momentum, Moosehead will have ambassadors in stores and on streets sampling the products.