EBay strives to end brand misconceptions
The site doubles down on the key themes of last year's global platform with new Canadian creative.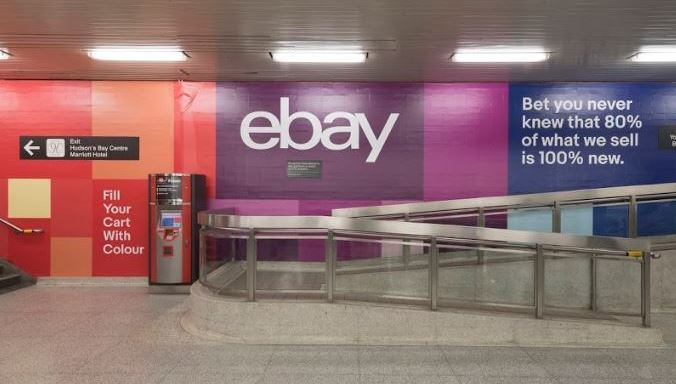 Ecommerce website eBay offers a whole range of used and new items, but many Canadians continue to think of the brand as an auction-only site for used products.
In a follow up to its "Fill Your Cart with Colour" campaign last year, the brand has set out to debunk that misconception in new Canada-specific work stemming from its global platform. The campaign is running across digital, social, radio and out-of-home channels until June. Through the use of bright colours, creative assets draw attention to lines like "Shopped from Canada. Shipped from Canada," and "Bet you never knew that 80% of what we sell is 100% new."
"The eBay brand is a very well recognized brand, but what people know about us is not really who we are," says Sam Yip, eBay Canada's head of marketing. He says the company is aiming to counter the common perception that it is first and foremost an auction site, with inventory coming primarily from the U.S. and other countries.
Last year's "Fill Your Cart with Colour" platform sought to highlight eBay's personalized shopping experience, putting emphasis on the fact that customers can find exactly what they're looking for, says Yip.
The new Canadian-specific creative was developed with Montreal's U92 agency and speaks to the company's local objectives, including changing consumers' perception of eBay as only an auction site and showing the range of its Canadian domestic inventory. It has worked with Canadian sellers in recent years to build out a more robust local offering.
The brand's digital, social and OOH assets highlight the range of products on eBay, while the radio spots speak specifically to the availability of new items. The radio and OOH elements present a "more generic message" covering multiple categories, says Yip, while digital assets have been targeted to people with specific interests, such as fashion and home and garden. It's working with Zenith on media.
Yip says the campaign's primary audience is adults aged 25 to 49, and that is has put strategic focus on the Southern Ontario market, which has been identified as a priority for future business development. While the campaign is national in scope, the radio and OOH executions were specific to Southern Ontario.
eBay is the second-largest ecommerce player in the country with more than 8 million Canadian monthly visitors to the site.